Ahead of the May 1 special election for D.C. City Council seats from Wards 4 and 7, as well as a Board of Education seat from District II, the city's leading GLBT political organizations recently announced ratings and endorsements.
The Gay and Lesbian Activists Alliance of Washington (GLAA), the city's longest-running gay civil-rights organization, rated the candidates at the group's March 27 meeting. The GLAA rating system, which rates candidates in various categories with the help of candidate questionnaires, open debate and the group's collective knowledge, pointed to Ward 4 Council candidate Michael A. Brown as the clear GLAA favorite. Brown's 8-point score, on scale of negative 10 to 10, placed him above all candidates in all races. In the Ward 4 race, candidates Graylan Scott Hagler earned the second-highest rating, 4. Both are Democrats.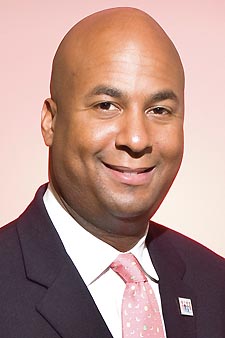 Ward 4 candidate Michael Brown
(Photo by Todd Franson/file photo)
The Gertrude Stein Democratic Club, a GLBT group, voted on endorsements April 9. In the Ward 4 race, the Stein Democrats are endorsing Brown. He won 67 percent of the vote, according to the club's president, Mario Acosta-Vélez, who added that the meeting drew about 100 members. The Stein Democrats' endorsement process requires a candidate to receive more than 60 percent of the votes to be endorsed. Brown secured the endorsement without need of a runoff vote.
In the Ward 7 race, Democrat Emily Y. Washington captured the top rating, 7.5. Johnnie Scott Rice earned the second-highest rating, 6. Rice is running as an independent.
In the same race, Gertrude Stein members voted to endorse Yvette M. Alexander, who secured 60.34 percent of the vote. Alexander earned a 2.5 rating from the GLAA.
The Stein Democrats' endorsement vote for the District II Board of Education seat forced a run-off vote, securing endorsement for Sekou Biddle for this nonpartisan position with 60.34 percent of the runoff vote. GLAA members gave Martin Levine the top rating in this race, a 6. Mai Abdul Rahman trailed, however, by merely half a point. The GLAA gave Biddle a 3.5 rating.
Both groups are offering information supplied to them by the candidates on their respective Web sites, www.glaa.org and www.steindemocrats.org.