First of all, it's okay if your first reaction to hearing about a show that parodies Andrew Lloyd Webber musicals is, "How will I know it's a parody?" It's probably to be expected.
After all, the argument could be made that musicals are, by their very nature, parodies. Most can be reduced to a formula: Boy meets girl, boy loses girl, boy gets girl back again all while singing like one of the final four contestants on American Idol. It's the same with opera, except, instead of boy getting girl back again, the girl in opera has a tendency to die. That's the dividing line. Mimi in Rent? Lives. Mimi in La Boheme? Dies.
Eric Rockwell and Joanne Bogart's The Musical of Musicals (The Musical!) at Alexandria's Metro Stage uses this formulaic quality to stunning advantage. This D.C.-area premiere is like an evening spent watching a group of very smart, very talented theater geeks (a term used with full affection) playing an equally smart, talent-required drinking game. The game begins with the establishment of a simple plot: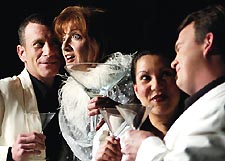 Songbirds: Smith, Migliaccio, Gulisano-Sunday and Russell Sunday
(Photo by Colin Hovde)
Girl: "I can't pay the rent."
Villain: "You must pay the rent!"
Boy: "I'll pay the rent!"
Girl: "My hero."
The show's four-person cast, aided by their pianist/narrator, then transforms this plot into five short, fast-paced vignettes inspired by the works of some of musical theater's best known creators. In addition to Mr. Webber (with "Aspects of Junita") Musical takes aim at the works of Stephen Sondheim ("A Little Complex"), Rodgers & Hammerstein ("Corn!"), Cabaret's Kander and Ebb ("Speakeasy") and Hello Dolly's Jerry Herman ("Dear Abby!").
Over and again we watch as the landlord, played by Bobby Smith, tries to get Janine Gulisano-Sunday's June to pay the rent. Unable to pay, she seeks the advice of Donna Migliaccio's Abby before finally being rescued by our hero, played by Russell Sunday. From musical to musical the names alter a little — Sunday is first Big Willy, then Billy, William, Bill and finally Villy (yes, that would be Billy in German) — and the music plays out like a survey course of 20th-century musical theater.
This is a funny show superbly executed by a cast whose résumés, perhaps not surprisingly, not only include starring roles in shows written by some of the men they are parodying but a startling number of Helen Hayes Award nominations. Migliaccio alone, in addition to her 1992 award for Outstanding Actress/Resident Musical, has received ten Hayes nominations in the past 15 years. (She just took home her second on Monday night.)
This level of talent is critical and the key reason why Metro Stage's production of Musical is so incredibly enjoyable. From the homespun sentimentality of a Rodgers & Hammerstein styled duet to the overblown bombast of an Andrew Lloyd Webber power aria, the cast doesn't miss a beat — they truly can't in order for the joke to work.
Musical gives each member of the cast a unique moment to shine. Gulisano-Sunday contrasts her amazing voice with comic self-deprecation in the title role of "Aspects of Junita." Russell Sunday (her real-life husband) delivers locker-room level humor without shame and to great appreciation as Big Willy in "Corn!"
The Musical of Musicals (The Musical!)

To June 3
Metro Stage
1201 N. Royal St.
Alexandria, Va.
$35-$40
800-494-8497
www.metrostage.org
And big ovations, "led by the gay men in the audience," must go to Migliaccio and Smith. Standouts from start to finish, musical theater fans will fall in love with Smith's "Speakeasy" performance as the horny German nightclub owner Jütter and Migliaccio's "I can't sing or dance but I'm the star of the show" role as the Auntie Mame-esque Auntie Abbey. As Auntie Abbey makes her first entrance, pianist Dan Kazemi announces, "The audience gives Auntie Abbey a standing ovation…even though she hasn't done anything yet!"
The moment is a good example of why the comedy of Musical will be lost on some. This is (again affectionately) a theater geeks' show. While the recent movie versions of Evita and Cabaret will shed light on some of the gags, like the Chicago-inspired "Drip, Squeak, Minnelli, Screw", other bits, like pretty much all of the Sondheim, are wonderful inside jokes.
This doesn't mean that you have to love or even like musical theater to enjoy Musical. In fact, those who are less than entertained by singing felines and murder set to melody may find certain self-satisfaction in the show's lampoons. Ultimately though, Musical proves that the geeks shall inherit the earth.