Glowing at fur… Hearsay is no longer water-logged, but it still feels bloated after the torrential downpours a couple weekends back — and Hearsay's not just talking about the big boys from North Carolina with the tar-heel fetish and the dirty (blue) devil dominating demeanors. The rain, the rain — Hearsay nearly melted, even without setting more than two feet out into the elements at any one time until the gods stopped crying. Despite the sorry weather, Hearsay knew it was going to be a good night a few Saturdays back at FUR, when it was brusquely but effectively manhandled by FUR's frisker-in-charge, a big yummy chunk of a man. Yes sir, Hearsay is happy to see you. And no, that's not an extra large cell phone in Hearsay's pocket. The fur-laden occasion? Pete Kalamoutsos's Club Glow night. Kalamoutsos grape-leave stuffed the evening with some gay appeal, especially the DJs: first, gay-boy Yiannis kicked off the evening and then gay-popular Victor "Let Me Set You Free" Calderone took over the turntables until after 4 a.m., making the club vibrate like a battery-operated doohickey. While milling about, Hearsay made the acquaintance of Bethany "Jesse" James and Ryan "Paul" Peterson, a quiet, happy straight couple who go to so many gay parties, they're known among their friends as Homo Hoppers. Hearsay asked Bethany if she comes to Fur often, and she laughed and laughed and laughed. And laughed. Guess Hearsay needs to work on its pick up lines with the ladies, because that line always works with the lads! So back to the lads Hearsay trots. Hearsay spent a few minutes socializing with Mike "If Victor Texts…" McGrath and Chris "…I'll Be Right There" Wiggins before they had to go somewhere, to see (who else?) Victor. Hearsay then unearthed Jason "1969" Stonewall in the crowd, who had brought his sister out for the occasion. What's that expression? The family that parties together….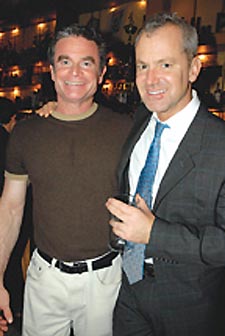 Pelham (left)
Hattoy's off… Last Wednesday, Hearsay popped in the 18th & U Duplex Diner to hunt down an old friend (or is that foe? Hearsay can't remember, save a few weightlifting sessions at the Y). The friend (or foe) happened to be Bob "The Taking of" Pelham, and the occasion was an impromptu gathering in the memory of Hearsay's old chum, Bob "Ba-Dum-Bum" Hattoy, who was, among many other fine and notable things, the funniest gay man on the planet next to Hearsay and Rosie O'Donnell. Pelham, visiting from Texas, where he now toils as an oil tycoon, had arranged for a memorial gathering earlier that evening on Capitol Hill, a gathering that included remembrances from Congresswoman Nancy Pelosi and Senator Hillary Clinton, both FOBHs. Hearsay will say this about Pelham, whom it hadn't laid eyes on in almost a decade — he's still a man worth laying eyes on. After accepting a fizzy drink from Eric "Duplex Man" Hirshfield, Hearsay went around the room, accumulating stories about The Mad Hattoy. The best came from Stuart "Pliant Skin is Genetic" Spencer, who recalled a story that was extremely funny but completely unfit for publication, even by Hearsay's loose and limber standards. All Hearsay can say is it took place in a urinal. Now let your filthy little minds go to work. Chad Johnson offered up a list of Hattoyisms, quotes attributed to Mr. H, the most famous of which remains "I'm a legend in my own mind." Actually, Hattoy will forever remain a legend in Hearsay's mind. So long, Bob. We'll miss you….
40 is the new 20… Last time Hearsay was on the scene, years ago, before its abduction — err, abdication and fleeing to the desert for foreign flushing and native rehabilitation — it remembers hanging out with twentysomethings and hearing of thirtysomething birthdays. Now people are turning 40! Why, just look at Kevin "Supple" Steele. He doesn't look a day over 39, but in fact, he is now 40, which is only ten years away from the big five-uh-oh! Anyway, Steele didn't have the decency to mourn the occasion quietly. Instead, he insisted that a gaggle of his friends throw him a party. Patrick "Long Time Coming" Branson, Scott "Tall, Light and Handsome" Johnson and Tony "Short, Dark and Cute" Johnson — looks can be deceiving, but these Johnsons are not related — helped organize the party hosted by John "Smile And the World Turns" Darnell at his lovely high and tight U Street abode. Michael "Smile And the World Melts" Crossett made everyone say cheese and act happy as the official birthday photographer, snapping photos with and without Steele against a wall-paper pattern backdrop that included Steele's initials.
It was certainly a party that would put most 40 year olds to bed. But not Steele — he kept going until the bartender Jon went home, after he had cleaned, and re-cleaned and then re-re-cleaned the kitchen. Some 60 or so people stopped by to wish Steele happy aging, including Rodger "Mighty Mouse" Burgess, Tim "Daffy Duck" Craig, Colin "Big Bird" O'Dea, Corey "Charlie Brown" Munoz and last but certainly not least, Eric "Brawny People-Picker-Upper" Lieberman. Steele even let them eat cake! A scrumptious chocolate mousse confectionary delight, with thick…white…icing. Hmm, hmm, face-licking good! Is that moisturizer I taste, Mr. Steele? Why, that's your secret! Too bad Hearsay already looks older than 40….
being bad… After Steele's far-too-festive-for-40 follies, Hearsay grabbed its cane and hobbled down the street to Be Bar. Mike "When Hairy Met" Saleh, the sweet dear, still a baby in his early twenties, helped Hearsay to the club to survey the scene. And what a scene, what a show Mike "My Dear" Watson created for the occasion. Apparently the night started even earlier at Be Bar, with an invitation-only preview of the bar's spring drink menu. No wonder everybody was so happy — and sloppy! And look at all those cows! The Leather Rack brought in lots of leatherwear and Be Bar furnished dancer boys, not to mention a young-and-restless drunken boy-crowd. The result? A leather and mascara party, quipped "Daddy" Don Turner, down from New York to visit his old friends as well as to say hi to the night's DJ, Shane "Wane" Woten from Ft. Lauderdale. The official theme was La Douleur Exquise! Ah, c'est magnifique! Hearsay doesn't speak French, but it knows pleasure and pain when it sees it, and La Douleur Exquise ain't just the name for any old party. It's not a name to be taken lightly. You have to take it long and hard. Focus on where it's hitting you and let your mind wander. Think about daisies and roses and lilies and… oh, ow. Ow! That hurts! Say, what happened? Where have all the flowers gone? The exquisite, exquisite fleurs… Ah, oui! Hearsay was talking about exquisite pain, the kind you can only find at Be Bar the first Saturday of every month. Which means, of course, the next party is Saturday, May 5. So start planning now! The actual event is Be: Bad, which just so happens to be Hearsay's motto. Oh, don't look so surprised! And Be: Bad's official slogan: "Everyone has a fetish…what's yours?" Hmmm. Well, there was the time Hearsay took home a certain 40-year-old man who wore too much moisturizer that tasted good on the tongue, and whose belly button collected lots of pink lint that really complimented his chocolaty skin tone. It sure made Hearsay moist and static-cling. But is that really a fetish?….
Got a tip for Hearsay? Wanna just say what's on your mind for Hearsay to possibly regurgitate in its own way down the line? Shoot an e-mail to Hearsay@metroweekly.com.