I don't want to be premature about this, but it seems Joseph Gordon-Levitt has completely conquered the "Curse of the T.V. Sitcom Child Actor." Many have tried before him, mostly by taking on "serious" roles and playing against expected type, but precious few have succeeded. At least not immediately. Ricky Schroeder, currently playing a tough guy on 24, is a good example of a late bloomer, but he's never really made the leap to the big screen.
Gordon-Levitt is in a league all his own. Since Third Rock from the Sun went off the air in 2001, he's been very choosy about the films he appears in, sticking with low-budget, high-profile indies. He's all but abandoned the comedy route, accepting only roles that have cleaved to his gift for portraying darkly troubled young men. In his most noteworthy achievement, 2004's Mysterious Skin, he served up a gripping, disturbing performance of a gay hustler bent on self-destruction. It was unnerving to see Third Rock's little Tommy Solomon in this manner, but the part gave Gordon-Levitt a chance to stretch, and for audiences to stretch with him.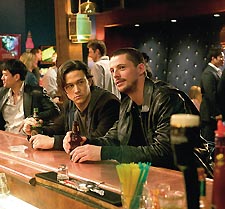 Drinking buds: Gordon-Levitt and Goode
With his latest film, The Lookout, he stretches yet again, playing Chris Pratt, a popular small town Kansas high school athlete with swagger to spare. Within the first few minutes of the movie, Chris, while driving on a country highway late one night with a car full of friends, makes a reckless choice that leads to a costly accident. Four years later, Chris, who suffered head trauma from the crash, and as a result has problems with short-term memory loss and basic sequencing, is struggling to regain his place in a world that isn't the oyster it once was. His roommate is Lewis (Jeff Daniels), a middle-aged blind man who mentors Chris with patience and friendship, and who has dreams of opening a diner called "Lew's Your Lunch." Lewis functions marvelously in the world, but Chris fails to latch onto his roommate for inspiration, remaining bitter, frustrated, lonely, and weary of his dull job as a night janitor at a local bank.
Vulnerable and impressionable, Chris falls in with some very bad folks — folks with names like Cork and Bone — who have a very bad plan: rob the bank Chris works in. Chris gets seduced into joining the heist by their leader, Gary Spargo (Match Point's Matthew Goode), and, well, you pretty much know things aren't going to go as planned. Bodies pile up, blood is spilled, and Chris finds himself in an extremely deadly situation.
Written by Scott Frank, a Hollywood scribe who penned the films Minority Report and the dazzling George Clooney-Jennifer Lopez vehicle Out of Sight, makes his debut here as a director. He does a pretty good job — there are some outstanding moments scattered throughout — but the movie lacks verve; its pacing is off. Essentially, The Lookout is more character- than thrill-driven. It's being marketed as a thriller, but the tension occupies only the final twenty minutes or so. The rest of the film is set-up, dedicated to Chris and his desire to fit in, his inner-need to redeem himself for past sins.

Area Showtimes
THE LOOKOUT




Starring Joseph Gordon-Levitt, Matthew Goode,
Jeff Daniels
Rated R
99 Minutes
Daniels gives a wonderful performance, as does Goode, whose doe-eye softness quickly turns to raw malice. Carla Gugino (Threshold) is wasted in a single, virtually pointless scene that leads you to believe we'll see more of her in the "Deleted Scenes" portion of the DVD release. And as Bone, Roy Orbison-lookalike Greg Dunham is fearsome in a detached kind of way.
But the movie belongs, lock, stock and smoking barrel, to Gordon-Levitt. To call it a star vehicle is probably overstating the case, but Gordon-Levitt uses the occasion to show that he can soundly carry a movie. His performance is flawless in a film that is mildly flawed, a film whose twists and turns really don't amount to more than slight bends in the road. He traverses The Lookout with tremendous conviction, disappearing so thoroughly into the part of this morose, confused young man, that you can't help but get caught up in his world. It's the kind of performance that will ensure Gordon-Levitt will have work for years to come. He may never be on the box office blockbuster level of a Tom Cruise, but he sure as hell can act circles around most of Hollywood's overpaid superstars. And in the world of film, that's called being a supernova.