"It's about being wacky and theatrical and bizarre, coming up with really irreverent, potty-mouth humor," says Shea Van Horn, referring to his preferred style of drag as well as Crack, the party he hosts as drag queen Summer Camp.
"It's really just a mixed bag of craziness," Van Horn says. He puts on the event every few months with Karl Jones and Chris Farris at the club DC9.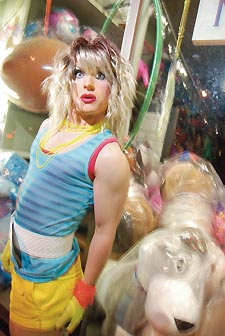 Summer Camp
"We always kind of feel like we're putting on bad high school productions, from set design to costume design to sort of the really relaxed atmosphere," Van Horn says. "It's very do it yourself."
Crack formed last year as an offshoot of the regular Taint party that Jones throws at DC9. Unlike Taint, Crack is actually less of a party and more of a show. They produce stage sets and videos, put out chairs and have an earlier start time. This Saturday's Crack 4 will feature a half-dozen contestants, from drag queens to singers to storytellers, competing to win $100 as the audience's favorite.
Van Horn, 37, got hooked on performing in campy drag while studying and performing theater in Seattle more than a decade ago. Now a policy consultant by day, Van Horn is trying to shake up D.C.'s putatively conservative image with Crack. Van Horn says the name came from Krackle candy bars. But it's a name that deals the trio ample chance to play with words and themes — from promotions using "little crack baggies," to audience-participation games along the lines of anal-ring toss. And to performances from people "who have fallen through the cracks" of traditional theater and drag venues.
Of course it's useful to have an audience that's off the wagon.
"I think having drunk audience members helps the entire show along," Van Horn says, describing why it's ideal to put on Crack in a grimy bar. "People do crazy things when they're drunk."
"Crack 4: Camp Crackahoa" takes place this Saturday, May 12 at DC9, 1940 9th Street NW. Doors open at 8 p.m. Show starts at 9. Cover: $8. Visit www.crackdc.com.