Franchelle "Frenchie" Davis gained fame — and infamy — during an all-too-brief round as a finalist in American Idol's second season. But she had her first taste of fame among gay Washingtonians, while attending D.C.'s Howard University.
"When I was a student at Howard I did a lot of extra work singing at many of the local gay bars to make extra money," says the 28-year-old singer. "I'm really excited about coming back. D.C. is like a second home to me."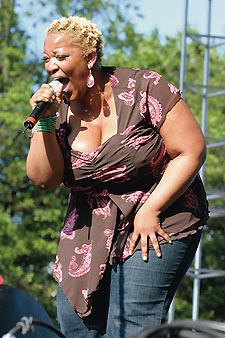 Davis performing at the 2005 Capital Pride Festival
(Photo by Henry Linser/Courtesy Metro Weekly)
When Davis returns to town this weekend, she'll be returning the favor, helping a gay Washingtonian gain his or her first taste of fame. A judge for the first D.C. Black Pride Idol Competition in 2005, she's back for the competition that organizers hope will become an annual tradition.
"It should be really, really fun," says Davis, who will also open on Sunday for headliner Monica. "I always love to see the people show their talent. The ones that are really good are really good. And the ones that aren't so great, they're hilarious. So I have a blast either way."
"We want to showcase the talent that's in the community that would otherwise not be seen," says DaJuan Xavier, who chairs D.C. Black Pride's entertainment committee that oversees the competition. "We have some talented people out there that we miss because there's not a vehicle for them to perform in."
Davis is one of three judges for the competition. Joining her to critique contestants will be D.C. native and frequent visitor Doug Spearman, of LOGO's Noah's Arc, and local drag entertainer Shaquita Lee. The judges will oversee two rounds of the three-round competition on Saturday: short, individual a cappella auditions and then performances as part of a duo or group with musical accompaniment. The judges' top five finalists will then move on to perform at Sunday's finals during the D.C. Black Pride Festival. Audience members will vote for their favorite finalist by dropping money into designated boxes. The proceeds will then be donated to Different Avenues, a local nonprofit providing services to LGBT adolescents and young adults who are homeless or in insecure housing.
"Using this forum to raise money for a charitable organization is one of the best things we could have done," says D.C. Black Pride's Vice-President Ray Daniels. Daniels hopes everyone votes at least once. With one dollar equaling one vote, that would allow Black Pride to donate some $4,000 to $5,000 to Different Avenues.
The competition is open to anyone, as Xavier puts it, "who has talent, or thinks they have talent." The winner will perform as part of the entertainment cast on the 8th Annual Black Gay and Lesbian Pride "Caribbean Cruisin' — Bahamas." Organized by Xavier's company, Ebony Pyramid Entertainment, the cruise sets sail over Columbus Day Weekend in October.
Daniels hopes that exposure at D.C. Black Pride and on the cruise will help launch "a successful career and that, ultimately, we would have an openly LBGT recording artist." Adds Xavier, "Who know? Maybe we'll have someone that will be up there and [will become] a recording artist and say, 'Hey, I got my big start with the D.C. Black Pride Idol Competition."'
For her part, Frenchie Davis understandably has become tired of talking about what was, essentially, her big start. Davis was unceremoniously and unjustly booted by producers of American Idol after racy photos surfaced from her college days. "I'm tired of talking about something I did when I was 19 years old," says Davis of the photos. And she's completely moved on from the show: "I don't watch that show at all."
Instead, her experience with Idol four years ago inspired her to pursue her original career path, in the theater and cabaret, which she had charted while at Howard. She has performed as Effie in a West Coast staging of Dreamgirls. She recently wrapped a multi-year stint in Rent on Broadway. And she's preparing to star as gospel great Mahalia Jackson in Mahalia: A Gospel Musical later this summer at the Hartford Stage Theater in Connecticut.
Davis has also performed a cabaret act at various gay clubs in New York, including most recently at Splash Bar. "I perform a lot of cover songs, songs by divas that all the gay men love and that I grew up listening to," Davis says. "Chaka, Whitney, Donna Summer — you know the gay white boys live for Donna." She's increasingly taking the show on the road. Up next: gay bars in Tampa, Nashville and Dayton, Ohio.
Soon enough D.C. will surely be added to the list. Davis plans to return to Howard next January, to finish her theater degree. She's got two semesters to go.
"I'm always excited to come back to D.C., particularly to perform for the gay community there, because they were my first fan base," Davis says. "I'm excited about coming home."
The D.C. Black Pride Idol Competition is open to anyone who would like to compete or watch. Registration begins at 4 p.m. on Saturday, May 26, at the Renaissance M Street Hotel, 1143 New Hampshire NW (Black Pride's host hotel), with preliminaries at 8 p.m. Finals will take place Sunday afternoon during the D.C. Black Pride Festival, in Hall C of the Washington Convention Center, 801 Mount Vernon Place NW. Festival hours are from noon to 6 p.m. Admission is $15.