As the President of the Board of Directors of Black Lesbian and Gay Pride Day, Inc. (BLGPD) events, I want to personally welcome you to Washington, D.C. and the 17th annual D.C. Black Pride.
Our theme for this year's pride is "Black All Over: Liberty, Unity and Strength" and it truly demonstrates the spirit of renewal for this event. As many of you know, D.C. Black Pride began as a one-day festival in 1990 when three men — Welmore Cook, Theodore Kirkland and Ernest Hopkins — found themselves concerned with both the lack of a place for our community to gather during the Memorial Day weekend and with the growing epidemic of HIV/AIDS and its impact on their community.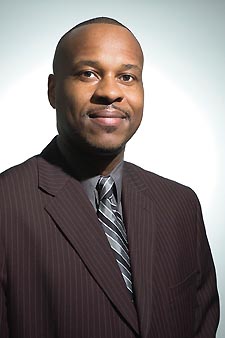 James Hawkins
We are honored to continue this proud tradition of success. Over Memorial Day Weekend, thousands in the LBGT community will come to Washington, D.C. to celebrate pride and the diversity within this beautiful community of men, women and transgender individuals. We come together to celebrate our lives and our strengths. Pride allows social "Liberties" that allow us to register as domestic partners in major metropolitan cities, such as Baltimore, Philadelphia and, of course, Washington, D.C. Pride provides us with the "Unity" to establish a family unit of same-sex households. But, mostly importantly, we come together to renew our "Strength" to continue the fight for those basic rights that we are entitled to receive to remain productive members of society.
This event, created by three ordinary men has become the catalyst for an extraordinary pride movement in over 36 Black Prides around the world. Now, as the original and longest running, most inclusive Black Pride in the United States, D.C. Black Pride is changing its focus and its direction from one weekend-long celebration to year-round events as well. D.C. Black Pride will focus on gearing its efforts to events that will continue to build "Strength" and establish a greater sense of "Unity" with specific emphasis on HIV prevention and education, community involvement and social activities.
As we celebrate our 17th year, I am proud to be a part of D.C. Black Pride. The board and I have made a commitment to ensure this rich tradition of bringing family and friends together to celebrate our "Liberty, Unity, and Strength" continues.
On behalf of the entire volunteer Board of Directors, Planning Committee, and the many volunteers, we hope you have a safe and enjoyable 2007 Memorial Day weekend. D.C. Black Pride is "Bringing Sexy Back to Black!"
Sincerely,
James W. Hawkins
President
Black Lesbian & Gay Pride Day, Inc.