There's something appropriate about all the uncertainty that surrounds this year's Dyke March. Just a few weeks ago, local folk singer Mara Levi found out that there were no plans in the works to hold the 14th annual demonstration. That's when she decided to organize the event herself.
It's now scheduled for 1 p.m. on Saturday, June 9, at Dupont Circle.
"I have been living in D.C. for about three years, and the first year I lived here I went to the Dyke March and enjoyed it," she says. "I was sort of appalled at the thought that there wouldn't be one [this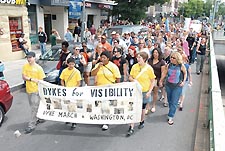 Participants of 2006 Dyke March
year], so I sort of decided that I would take it on."
As someone who has just stepped in and wanted to see it happen, Levi says she is not personally connected to a lot of the reasoning behind the anti-establishment style of the march. The Dyke March is traditionally an unofficial event that makes a statement.
"A lot of other people feel that it's our own thing," says Levi. "And by not announcing where we are going to be ahead of time it sort of forces people to reckon with our community in a way that's sort of different than having a parade."
Levi says participants are asked to meet in Dupont Circle, where a marching route will be determined.
"We'll walk in the streets and there will be banners and I'm told that some people will take their shirts off," she says. "I really don't know beyond that what to expect."
With only a week or two to plan the event, Levi, who plans to meet with D.C. Police next week to discuss Dyke March plans, warns that organizers did not have enough time to raise funds necessary to set up a stage or line up performers. She is hoping that participants make noise regardless by using megaphones and other means to make their ideas heard.
"It's definitely a way of saying you can call us dykes, that's fine," says Levi. "It's sort of taking this word that's supposed to be so negative and just using it, and reclaiming it — saying, all right, we'll take that word and we wont let you use it against us. We're happy to be dykes."
Levi says she wanted the Dyke March to keep moving forward because it's an important part of the community.
"Next year, hopefully, we'll have a little more fanfare and organization."