"This is the first 'gay' album I've ever released," jazz musician Dave Koz says about his new album, At The Movies, a tribute to movie music. "I mean, the whole thing starts with Judy Garland. How much more gay can you get?"
Throw in a little Donna Summer, Vanessa Williams and Barry Manilow, and you see what he means. Did somebody order brunch?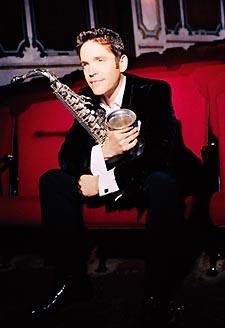 Dave Koz
One of contemporary jazz's leading figures for nearly two decades, Koz, 44, only came out publicly three years ago. "I worried about it for years and years and years," Koz admits. "Not only did the worst not happen," he says, the reception has been "beyond my wildest dreams."
But the four-time Grammy-nominated saxophonist says his second album since coming out was not intended to be gayer than the seven before it.
"This was totally not by design," the Los Angeles-based Koz says about At The Movies, released this past January. With help from a celebrated producer, a host of famous guest vocalists and a 40-piece orchestra, Koz reinterprets 12 "iconic pieces of music" from classic films, including West Side Story, Breakfast at Tiffany's and The Wizard of Oz. Surprisingly, Koz says he didn't even appreciate the gay angle until after he finished the project. "The reason for this album — 100 percent — is because of the songs. It's about celebrating the role of music in the movies," he says. "I've wanted to make this album ever since I've been playing music."
Until now, Koz concedes, "My music hasn't really appealed in a very broad way to the gay audience." But since coming out he has noticed more and more gays in the audience at his shows, and even on his annual "Dave Koz & Friends" Caribbean cruise.
"We're slowly starting to infiltrate, and I'm very happy to see that."
Dave Koz performs Sunday, June 3, at 9 p.m. as part of the 15th Anniversary Capital Jazz Festival at Merriweather Post Pavilion in Columbia, Md. Tickets start at $43.50. Visit www.capitaljazz.org.