It's hard to pinpoint exactly when and where Barbara Cook kicked off her long and varied career. The Broadway legend, who lives in New York City, suggests the early '30s, when she performed for her first audience.
"I must have been about 5 years old," she recalls, "and my mother and father took me to see some sort of musical production in a theater. I came home and I remember trying to sing all of the songs and do all of the dance moves for them. I remember…enjoying it."
Cook would one day win a Tony Award for Best Featured Actress in 1958, for her role as Marian the Librarian in The Music Man, before launching various solo shows including Mostly Sondheim.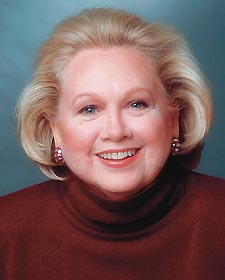 Barbara Cook
At 79, she's still going strong. In October, she'll kick off a cabaret concert series in her name, Barbara Cook's Spotlight, at the Kennedy Center. Next Thursday, May 17, she's scheduled to perform at Whitman-Walker Clinic's A Splash of Red: A Celebration of Life Spring Gala at the Andrew W. Mellon Auditorium.
So what is it about Barbara Cook that's so appealing to the gay community?
"I don't know," she admits, adding with a laugh, "What I usually say is that they have taste." In addition to her music, it could be Cook's loving and accepting relationship with her gay son, Adam LeGrant.
"I was surprised when he first told me. I thought he was joking, but I came to terms with it pretty quickly," she says. "It was wonderful for him. He just blossomed, it was a great great decision on his part to do that."
Cook watches American Idol from time to time, and shares this advice for singers just starting out: "It not only has to be something that you like to do, or want to do, but it has to be something that you must do.
"It's got to be really strong because there's so much competition… each person has to find his own way. If it's something that you must do, you'll find a way."
Barbara Cook will perform at the Whitman-Walker's 14th Annual Spring Gala, "A Splash of Red," at the Mellon Auditorium, 1301 Constitution Ave. NW. For tickets, visit www.wwc.org/gala or call 202-797-3545.