Janet Jenkins has been fighting for visitation rights to her 5-year-old daughter, Isabella, for more than three years now. Throughout her ongoing custody battle with Lisa Miller, the child's biological mother and her former partner — who now claims to be "ex-gay" — Jenkins has been left to wonder if Isabella would even remember who she was.
Now, according to Joseph R. Price, a Washington attorney representing Jenkins in Virginia, Miller allowed Jenkins the chance to visit Isabella a couple of weeks ago, and the girl did remember her other mom.
"I think [Miller] understands that this is eventually going to work out and she agreed, after more than two years, that she would let [Jenkins] see her daughter," Price says. "In Virginia, in a public place — still it was a wonderful visit for [Jenkins].
"Her daughter remembered her and they had a wonderful time. She's looking forward to a lot more of that."
And while a Mother's Day reunion between Jenkins and Isabella seems unlikely, family law experts and Price say Jenkins, who lives in Vermont, is almost there; close to resuming the visitation rights Vermont courts had originally granted her several years ago.
This is because of new developments in the case, including the United States Supreme Court's April 30 announcement that it will not hear an appeal of the Vermont ruling, followed by a similar announcement from the Virginia Supreme Court on May 8 that it will not hear an appeal of the Virginia ruling, because Miller "failed to properly file notice of her appeal after the Virginia Court of Appeals ruled that Vermont courts have jurisdiction in the dispute," according to the Associated Press. She currently has a second appeal pending with the Virginia Court of Appeals.
"This means the Vermont decision will stand," says Michele Zavos, a family law attorney in Washington, noting that Miller lost at the Virginia Court of Appeals and is now asking that court to reconsider.
Throughout the past few years, the Miller-Jenkins case has garnered national attention and has played out in two states: Vermont, where the couple joined in a civil union and lived for a year before separating; and Virginia, where Isabella was born. Miller brought the case to Virginia courts in an effort to void the couple's legal relationship by invoking Virginia's Defense of Marriage Act, which says that no state shall be required to abide by a law of any other state when dealing with same-sex marriage.
The Liberty Counsel, a not-for-profit, Florida-based, religious group funded in part by the Rev. Jerry Falwell, provided representation for Miller in Virginia. The organization declined several interview requests from Metro Weekly.
Price says he predicts that Jenkins will resume legal custody within six months.
"We are going to go back to the trial court in Virginia where [Miller] lives, the original court that said [Jenkins] had no legal rights, where [Miller] went on the day the [Defense of Marriage Act] became law… and say she has exhausted all her appeals and the Virginia Supreme Court said this court has to give effect to Vermont decision," Price says.
Jenkins could not be reached for comment. Price says she felt "misrepresented" in the in-depth article that ran in the Washington Post Magazine in February, detailing the couple's story, and at this point has decided not to talk to the press.
The Gay & Lesbian Advocates & Defenders (GLAD), a New England legal rights organization, praised the U.S. Supreme Court's decision to not hear the case. GLAD spokesperson Carisa Cunningham describes the case as "a fairly routine family law issue."
"It has some unusual characteristics, but it's a pretty typical custody dispute in which one parent doesn't like the decision they got in court and so they go venue shopping for another court," Cunningham says, noting that the practice is generally frowned upon and disallowed.
The recent developments do not bring the case to a full close, however.
"It certainly brings Janet closer to having regular access to her daughter," Cunningham adds. "It doesn't resolve all the issues, but it brings her very close."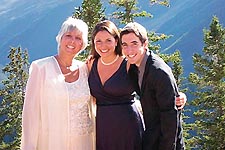 Silber (left)
Susan Silber, a family-law lawyer in Takoma Park, has been following the Miller-Jenkins case very closely.
"My main reaction is how terribly difficult this is for this poor kid," says Silber. "It's like the worst horror story…for the child to be torn between the people who love her most."
Silber says she often comes across similar cases.
"People get so stuck in their anger they can be very short-sighted about the effect it's having on the child," she says, noting that divorce itself isn't necessarily the problem.
"What's harmful is this kind of case — this hostility, this rancor, this need to prove that the other person is unfit. That's what destroys the children."
Silber speaks from experience. She separated from her partner of 23 years, who, like Jenkins, was the non-biological mother of the couple's son, now 18, and daughter, now 24.
"I'm not trying to say it was easy," she says. "I think there were times where people tried to [convince] me to do it differently."
Silber says that although some members of her family thought it would be "simpler" to not recognize her former partner's rights, she didn't want to use a "bigoted and phobic" tactic.
"In truth, she's very bonded to both children, and they to her," says Silber. "It would have been terrible for the kids to have reduced her role."
Zavos echoes those sentiments.
"It's so unfortunate that [Miller] has chosen this path. When you have a child with somebody, and you agree that you're going to raise the child together — that's a lifetime promise, and that's what it should be.
"Lisa has done incredible harm to her daughter, and frankly also to herself…. It's also bad for our community."
It's a situation that could have been avoided, Zavos says, urging all gay and lesbian parents to get their legal documents in place.
"Nobody ever believes that they will ever break up," she says. "But people do break up and it's better to memorialize all of your agreements when you're still in love with each other, even though you don't really want to do that."
Like Silber, Zavos also speaks from experience. Her relationship with her former partner came to an end five years after their daughter, now 22, was born.
"Even though I was the biological mother and at that point had all the legal rights, my ex-partner was her mom [too] and I wasn't going to deprive my child or her other mother of that relationship."