Although director Paolo Micciche is known for some adventurous productions, his rendering of Verdi's Macbeth is more a long and rather creepy dream. It's precise and well-done, and, although Shakespeare's story is accessibly front and center, overall this isn't quite the night for an opera neophyte.
The problem is that this early work of Verdi's is steeped in the kind of traditional operatic pacing which opera-avoiders would call painfully prolonged. Indeed, pretty much every moment is reflected upon at length. You will either find Macbeth deeply absorbing or agonizingly tedious. Put another way, you will either become lost in Verdi's dark musical imagery or you will find the seats dangerously hard. There is certainly plenty of super-imposed imagery to look at, but unless you are riveted by the score, gigantic zooming shots of stained glassed windows and revolving medieval kings are going to feel less like mood-enhancers and more like the projector gone bad in art history 101.
Still, for those who are ready, willing and able, there is magic in this fluid and engaging piece. First and foremost is baritone Lado Ataneli in the title role. Ataneli shows us just how much gorgeous subtlety and range a baritone voice has to offer. He brings to his masterful, sonorous tones a noble smoothness with barely a trace of the gravelly default which so often flattens the deeper voices. Not only does he sound good, Ataneli moves well. He thrashes at the intentionally vast spaces with the very kind of grand impotence one would expect in the tortured character of Macbeth. And he does look awfully good in a dress.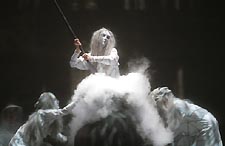 Soprano Paolette Marrocu as Lady Macbeth is more of a puzzle. She certainly looks and acts the part of an off-kilter feminine powerhouse capable of cajoling and badgering a husband to murder, but her voice is uneven. Her lower register and a few higher notes projected with a beautiful trilling sweetness, but some of her runs ended with what can only be described as — and this is an operatic term — a squawk. Perhaps she was trying to show us Lady Macbeth's coming madness, perhaps not. Still, other than these few odd moments, Marrocu was in great command. She understands the Micciche's dreamy spaces and she makes herself an integral and fascinating part of the visual movements.
Vitalij Kowaljow as Banquo delivers a wonderfully pure, hard bass and his duets with Ataneli are studies in the intertwining of two magnificent sounds. Kowaljow also has a good, intense stage presence and his urgency moved the dreamy mood forward nicely. Mention must also be made of tenor John Matz as Macduff who delivers a wonderful aria at the end of Act II. Soprano Aundi Marie Moore does nicely in a small but noticeable role.
Macbeth

Washington National Opera
Kennedy Center
Opera House
May 17, 20, 23,
29, and June 2
202-295-2400
www.dc-opera.org
And then there is the fascinating choral interlude just before Macduff's aria when the townspeople worry for their safety. The chorus sings without orchestra and they truly become an orchestra of voices. This is precisely the kind of moment that will bring tears of joy to the buff's eye and make everyone else think they've died and gone to Hell. Never mind; it is superb choral work. Having said that, the returning witches and their white-clad choral brethren come across less well. The ball-throwing and hoola-hooping are incongruous with the other-worldly feel of the production and are major mood-breakers. Similarly, at least one of the small girls used for occasional symbolic emphasis, seemed overwhelmed.
And these little things do rather matter since Micciche has fully committed to turning this stark and violent narrative into more of a fantasy of the mind. The projections are used openly to suggest the vastness of a cathedral or a castle interior and then to deliver the marvelously evocative medieval imagery which is often manipulated into three dimensions. They are made an essential narrative element and though they are sometimes dramatic, they are never overdone.
And so, thinking of its most dedicated patrons, the WNO has offered up a very dense dose of Verdi. It will certainly last the die-hards through the summer break, but it may be just a little too viscous for the uninitiated.