The giddy anticipation of a movie is sometimes better than the movie itself. You enter more excited than you ultimately exit. Such is frequently the case with Hollywood blockbusters, which get much of their pre-release steam from P.R. hype machines on thundering overdrive. That's not to say there can't be payoff, that the movie in question can't exceed expectations — but the case of that is extremely rare.
Which is pretty much what happens with Spider-Man 3. Yes, you're breathlessly looking forward to it — and why not? Precedent was set back in 2004: The second outing (not the first in 2001) was absolutely, utterly sensational, to my mind the greatest movie to date based on a comic book. It had a stunning villain (Doc Ock, portrayed by the marvelous Alfred Molina), eye-popping special effects, thrills to spare, and potent emotional depth. Try as he might, returning director Sam Raimi and his earnest assortment of Spidey characters, can't duplicate the impact and the elation in installment three.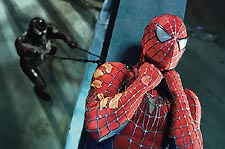 Fight night: Venom and Spider-Man
That's not to say Spider-Man 3 is a dud. Far, far from it. There is effort on the screen: loving, caringly crafted effort. It's just that the effort seems forced — Raimi and company try a little too hard to recapture the magic that swirled around Spider-Man 2. There are three basic problems as I see it.
Problem #1: Multi-villian-itis (also known as "The Batman Syndrome"). There are too many bad guys, and not enough of the one truly interesting villain. Spidey/Peter Parker (Tobey Maguire) has to contend not only with his vengeful friend Harry (James Franco), who's followed in his deceased father's footsteps (the Green Goblin from the first movie) and christened himself the New Goblin, but also a swirling, shape-shifting mass of living pebbles known as Sandman (the terrific Thomas Haden Church) AND a symbiotic alien from outer space that brings out the worst in its host and eventually comes to be known as Venom. Honestly? Venom would have been plenty. By the time the toothy Venom — beloved by comic-book fanboys the world over — emerges, attaching itself to a smarmy young creep named Eddie Brock (Topher Grace, startlingly, deliciously evil), the movie is nearly over. True, there is a long mid-section in which Peter Parker gets infected by the gloopy, tendrilled creature and evolves into a bad boy version of his normally awkward nerdy self. The bit goes on too long, but it is at times tremendously funny, and it sets up a basic theme that carries through the remainder of the film: forgiveness and redemption for one's sins.
Problem #2: Too many love interests. Aside from Parker's true love, Mary Jane Watson (Kirsten Dunst, still the most blah thing about the series), who feels neglected and rejected (she gets fired from her first Broadway show after opening night), there's the flirtatious Gwen Stacey (Bryce Dallas Howard), who Spidey saves from a perilous fall during one of the movie's most jaw-dropping action set pieces. Mary Jane finds herself in the comforting company of former flame Harry, who ultimately… oh, it's just too complicated to explain. Let's just say the connection between Harry, Peter and Mary Jane is meant to give the movie an emotional bump-up at the end. It's more like a meaningless blip.
Which brings us to Problem #3: Putting this narrative clutter together in a sensible, streamlined fashion. Raimi and screenwriters Ivan Raimi and Alvin Sargent give it the old college try, but ultimately succumb to the sheer impossibility of the task. The end result is a little messier than it need be, a little duller at times than it should be. Had they simply removed Sandman and focused on Venom — and given Grace a chance to go for the gusto — so many problems might have been solved. After all, one of the things we most desire from our comic book movies is to revel in the villainy of the villains.
True, by allowing Venom to start with a takeover of Peter Parker, we get a rare chance to see the hero as a would-be villain. But Peter's dark side falls this side of satirical — he gets dark circles under his eyes and his normally pushed-back, slightly oily hair droops ominously into bangs, making him look like a model for a Garnier commercial. It isn't until Venom envelopes Brock that the true monster — fanged and vicious — emerges. And what a monster. You'll wish there were more of it.
Through it all Raimi trudges forward like a trooper. His grasp of action remains peerless — he's right up there with Spielberg — and in terms of providing the means for an adrenaline-boost, he comes very close in Spider-Man 3 to surpassing his masterpiece moment from Spider-Man 2 — the above-ground train fight between Spidey and Doc Ock. Raimi's wry, whiskery wit creeps into the film in the most unlikely places, punching it up. And his villain transformation scenes — particularly of convict Flint Marko into Sandman — are works of genius.

Area Showtimes
SPIDER-MAN 3





Starring Tobey Maguire, Topher Grace, James Franco
PG-13
140 Minutes
Opens May 4
Area Theaters
But if you ask me, Raimi seems a little burnt out by the whole Spider-Man ordeal. And who could blame him? He's spent the better part of a decade on the three films. His ennui, real or imagined, carries through to the audience — Spider-Man 3 fails to enliven us. It doesn't have the satisfying, jolting rush that makes you leave exclaiming, "Wow! I can't wait to see that again!" Call it Blockbuster Burnout.
While I would love to see the gang unite for Spider-Man 4 — and the scene is set for an iconic Marvel villain known as The Lizard to take center stage — I wouldn't begrudge Raimi one bit if he took a few years off and made smaller, more intimate projects. It might help him regain his Spidey sense.