While attending college, Sgt. J.B. Wallace never intended to become a paramedic.
It was only after she earned a bachelor of science in psychology and sociology from the University of Maryland in 1985 that Wallace decided to take a break before grad school and ended up taking a first-aid class.
"I was just hooked," says Wallace, a 56-year-old lesbian who lives in Adelphi, Md., with her partner of 27 years.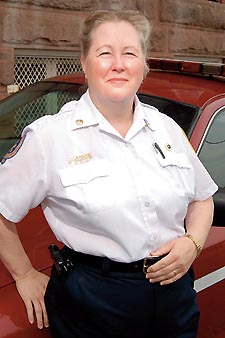 Sgt. J.B. Wallace
(Photo by Todd Franson)
Wallace has been saving lives as a paramedic in Washington for nearly two decades now, and credits her passion for wanting to fix things, as well as being a "control freak," as the driving force behind her long-lasting career.
"It's the ultimate 'fix it' job," she says.
On Tuesday, June 19, D.C. Fire and Emergency Medical Services department Chief Dennis L. Rubin appointed Wallace as the department's first LGBT Liaison Officer.
"We need this position for a variety of reasons," Wallace says. "One of which is to change the community's perception of the fire department's ability to respond to their needs."
Throughout her career Wallace says she has seen many different types of responses to GLBT interactions with the fire department.
"Some were absolutely incredibly good," she says, "and some were not as good as I would have liked to have seen. And of course we have a history of some problems, and what I have to say about that is — it is indeed history."
That history includes the 1995 incident in which Tyra Hunter, a 24-year-old transgender woman, died on a street in Southeast following a car crash. Shortly after her death, it was discovered that rescue workers had interrupted Hunter's medical treatment upon discovering she had male genitalia. Instead of providing treatment for Hunter's severe injuries, they wasted three to five critical minutes making derogatory comments.
"My goal is to make sure that nothing like that ever happens again," Wallace says.
"As far as the transgender community is concerned, they have a lot of very special specific issues, and I need to sit down and talk to them," she says. "I already know what I perceive as some of the problems, and I want to know what their take on it is."
In addition to letting the general public know that the fire department now has an Office of LGBT Affairs, she will be planning, developing and promoting programs to implement positive changes at the department, as well as responding to the GLBT community's questions and concerns.
Wallace says that while the department can't change everyone's mind or force people to think differently, it can "hold everybody to the same standard, as far as behavior is concerned," she says.
Wallace is offering her cell phone number to the general public and urging anyone who wants to contact her regarding questions, comments or complaints about the department to call with any problems they may have about "how they were treated or just about anything that they didn't understand about what was going on in an incident they were involved in."
"A lot of problems come from misunderstandings," she adds.
Tony Dorsey, director of public affairs at D.C. Fire and Emergency Medical Services, says he hopes that in addition to addressing the concerns of the city's gay community, Wallace will also encounter those who have had positive experiences with the department, and individuals who want to join the force.
"I don't think it's just that we want to deal with complaints," he says. "We want to deal with people who have had good experiences with the fire department as well."
Dorsey says Rubin, whose daughter is openly gay, came up with the idea to launch the department's Office of LGBT Affairs.
"He is very comfortable and is very in-tune with the communities out there," Dorsey says. "So quite naturally, one of his priorities was to reach out to all communities."
"[It's about] trying to create a bridge of understanding between our department and all the communities out there that need this kind of support," Dorsey adds. "It's the first step that this department has ever taken. What happens after this remains to be seen."
The D.C. Fire and Emergency Medical Services' Office of LGBT Affairs is located inside the D.C. Fire/EMS headquarters, 1923 Vermont Ave. NW. For more information call 202-673-3678. Wallace is reachable via her cell phone at 202-321-8914.