Mara Levi jokes that during her early Capital Pride Mainstage set a couple years ago, she may have been seen as a bit of a cliché. Short-haired woman with an acoustic guitar? "All the men saw me and walked away. The women saw me on walked up. I was really new to D.C. then."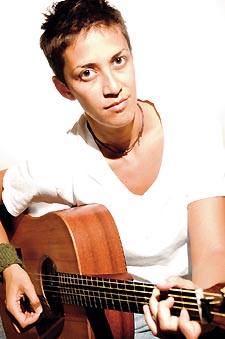 Mara Levi
With some Washington exposure under her belt, the capital community may be better prepared to receive Levi's Mainstage return on Sunday, June 10. Perhaps now they know she's no out-of-the-box "lesbian folk" template, but a funny, talented musician whose influences run the gamut from Aimee Mann to Johannes Brahms.
Regardless of the reception she gets, Levi sounds like she's just glad to be back home, following an intense bout of touring to promote her new CD, What Are You? But don't picture Fergie flying first-class between gigs. Levi's been out on her lonesome, mostly behind the wheel, sometimes playing unfamiliar venues, across the country. The Capital Pride crowds, she says, are a welcome change.
"I've been gone for so long, I'm totally loving that I'm going to get to play Capital Pride. It couldn't be a friendlier audience. It's not like playing in a bar that I've never been to, in a place I might think is homophobic."
Still, moving from nighttime, indoor gigs to the sun-drenched pavement of Pennsylvania Avenue does offer something of a predicament:
"The problem is, it's hot and you want to wear shorts, but you should probably wear pants. I only have a few cool outfits. And I'm not wearing a skirt, I'll tell you that! That's my dilemma."
Mara Levi is scheduled to perform Sunday, June 10, at approximately 3:55 p.m. on the Capital Pride Festival Mainstage. Times are subject to change.
To read Metro Weekly's interview with Mara Levi, please click here.