Well… it's better than the first one.
Faint praise, indeed, but it's really the best you can say for the second installment of the Fantastic Four franchise. And frankly, that praise is better than most sequels are getting this summer, including Spider-Man 3 and Pirates of the Caribbean: At World's End. Granted, Fantastic Four set the bar really low for itself with the original, but a commercial success is still a commercial success.
Fantastic Four: Rise of the Silver Surfer is visually entertaining at best, contrived at worst. Even for a movie based on a comic book, where contrived is a requirement for its basic existence, Silver Surfer is a tough one to swallow.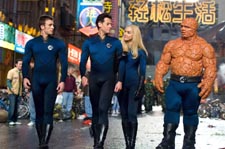 Fantastic Four
We join the superpowered foursome right where we left them — bickering. If they spent a fraction of the time fighting evil as they do fighting with each other, the world would be a wonderful place. In fact, when they finally do kiss and make up, you almost wish they had chosen to stay apart — it would make a third installment less likely to occur.
At the beginning of the story, the biggest problem facing our heroes is the repeatedly delayed nuptials of Sue Storm/Invisible Woman (Jessica Alba) and Reed Richards/Mr. Fantastic (Ioan Gruffudd). Of course, the Human Torch (Chris Evans) is dealing with a conundrum of his own — trying to get people to call him John rather than Johnny since it tests better with his endorsement markets. (It's a little bit refreshing to see superheroes cashing in on their powers for monetary returns.) Meanwhile, The Thing (Michael Chiklis) lumbers on in the back of the scenes, looking and sounding like a rockslide.
Enter the Silver Surfer, who serves as an eight-day heads-up that a world is about to be destroyed. Mind you, we don't know how Mr. Fantastic figures out this timeline, but that's why they call him Mr. Fantastic! Fighting both the U.S. Army, whose leaders are portrayed as ignorant and torture-happy, and the Surfer, the Four blunder their way through one mishap after the next. With superheroes like these, who needs villains? But we got villains — in abundance.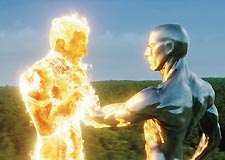 All choked up: the Human Torch (Evans) meets the Surfer
In addition to the Surfer, Dr. Doom (Julian McMahon), thought to have been destroyed in the first movie, is inexplicably woken from his vegetative state and freed. He just so happens to get his hands on all sorts of fancy equipment and manages to convince the Army that he's a good guy. We don't know how this all happens, it just does. McMahon is wasted in this role, but like any port in a storm, he's any villain in a sequel.
As the primary bad guy, the Silver Surfer is awesome. Voiced by Laurence Fishburne, he often sounds like a talking fortune cookie, but he's arguably the best special effects character around this summer. It's a shame Alba is paired with him in most scenes. Her one-liners are laughable. She comes off either as patronizing or unable to act her way out of a paper bag. For her sake, let's hope that she's following director Tim Story's instructions.
Story relies on special effects so much, he doesn't bother to coax a performance from anyone beyond the most superficial level. Whether the actors don't care, don't think they need to care, or just can't, the result is a painful collection of cheesy dialogue with special effects mixed in between lines. At least Chiklis can hide behind his elaborate rock costume as the Thing.
Fantastic Four: Rise of the Silver Surfer

Starring Ioan Gruffudd, Jessica Alba, Chris Evans
Rated PG
92 Minutes
The real villain of Silver Surfer who needs to be destroyed is Jessica Alba's stylist. She attacks with goopy eyeliner, bad blonde wigs and over-inflated lips, determined to destroy all natural beauty in the world. Alba ends up looking more over-processed than the Silver Surfer himself.
Billed as a family film with less violence, the new Fantastic Four tries to be a little of something for everyone. Unfortunately it wallows in a netherworld of good intentions that aren't properly executed. It's tempting to call this a Fantastic Flop, but that would be too easy. Instead, let's just call it an improvement on the first, learn from it, and move on before they're able to bring back Dr. Doom for a third time.