Blood and guts and gore. Oh my!
Eli Roth's Hostel: Part II delivers everything that you would expect from the sequel to the 2005 original: more horrendous torture scenes, more blood, more screaming and more Americans being slaughtered by those willing to pay the fee. What it also delivers is a surprisingly detailed new level of the "why and how" behind the original, which barely scratched the surface of the "what."
But is there anything to this film, which wades knee deep in entrails and human degradation, besides a hedonistic look at the worst of man?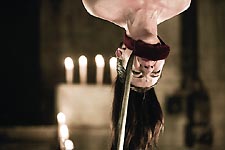 Matarazzo: Hostel II
Hostel: Part II begins literally hours after the first ends, resuming the story of Paxton (Jay Hernandez), who escapes the killing factory in the first installment by boarding a train to Italy. Using clips from the original film, viewers are quickly brought up to speed on any pertinent information needed to understand this new chapter, ensuring that those who missed the first will still understand the second. Paxton's story is resolved with lightening speed, leaving us to pick up with three new backpackers in Europe — only this time they're women.
Beth (Lauren German), Whitney (Bijou Phillips) and Lorna (Heather Matarazzo) are the obvious targets, wooed by tales of the wonderful Slovakian spas by the beautiful Axelle (Vera Jordanova). Even though they're unnerved by Axelle's seemingly lesbian interest in Beth, the trio is quickly swayed and like a pack of lemmings head off to Slovakia. Once the girls arrive, greeted by some familiar faces, you expect the same story to be regurgitated. While some similar plot developments unfold (where are the other guests disappearing to?), the only thing really being regurgitated is your last meal.
Wisely, the film splits the focus between the victims and the people willing to pay tens of thousands of dollars to torture and kill them. Two American men, Todd (Richard Burgi) and Stuart (Roger Bart), are the winners of the online auction to slaughter two of the girls. Reunited from their roles on Desperate Housewives, Burgi and Bart show surprising chemistry as a dominant and submissive male duo, spurred to action by their misconception of the definition of power. The character of Todd comes closest to explaining why he has taken this path, but it's the evil gleam in Burgi's eyes that is the most convincing.
Matarazzo, a gay icon long before she came out thanks to her wonderful role in Welcome to the Dollhouse, leaves behind her Princess Diaries days in a completely new role. Being bound naked and hung upside down with a ball gag in her mouth is only the start to her horrific ordeal. Even while performing these acrobatic feats, Matarazzo's begging for mercy is disturbingly authentic. The diversity of Matarazzo's resume continues to grow, but hopefully this is a chapter she can consider closed. There are a limited number of times you can bare your breasts and hang upside down crying before it takes a toll on your reputation.
It's not hyperbole to say that Hostel: Part II is orgiastic in its approach to violence. But perhaps Roth is trying to tell us something through his story of torture. Once the arterial spray ends, is there another level to be found under the blood?
Hostel: Part II

Starring Heather Matarazzo, Richard Burgi, Roger Bart
Area Theaters
Todd and Stuart have drastically different reasons for joining the murder club in the first place — Todd believes that it will give him newfound power while Stuart feels trapped by his wife and completely submissive to Todd's will. With a slight of hand, Roth pulls out the carpet from under you at the end of the film and upends the character development. Is this an attempt to examine what's really inside a person's heart, discover the root of evil, or is it just a theatrical device to keep the audience peeking through their fingers rather than completely bury their heads in their hands?
In the litany of horrors displayed in this film, there is one scene that contains an act that should be the most base and vile that could be committed. However, it's the most extraneous scene in the entire film and one that oddly evokes very little emotion. It's this moment that tips the scales and determines that any attempt on Roth's part to use this project as an examination of the evil in the world is a lost cause.
But Roth commands strong performances from his cast and his ability to stimulate a gag reflex with special effects is stronger than ever. If this is your cup of tea, drink up — there's plenty to go around.