If ever there was a difficult row to hoe, the displaced gay adult venues formerly of Southeast D.C. can claim it. Open barely a month, the only venue to have reopened in some form — because it did not face the attendant hurdles of having a liquor license — has been ordered to close by the city's Department of Consumer & Regulatory Affairs (DCRA).
"I am trying to avoid a shutdown," says 2120 proprietor Bob Siegel, whose Glorious Health and Amusement adult theater fell victim to baseball stadium construction. Siegel says the order to close 2120 stems from his certificate of occupancy application, listing the venue as "office space." On Monday, the DCRA confirmed the investigation into 2120's application, but referred any further inquiry to the DCRA Freedom of Information Act officer. A Monday request for related documents could not be completed by DCRA by Metro Weekly deadline.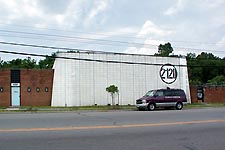 2120's location in Northeast
(Photo by Todd Franson)
Regardless of what those documents might reveal, Siegel says that 2120 is being targeted unfairly.
"I think the city is coming down on gay people more than they are on other businesses," he says. "I have been hit by quite a lot of police visits. DCRA inspectors have come by about three times. City trash people have said my dumpster need to be in compliance with paper and metal recycling, but I drive around gas stations in the area and they're not in compliance…. I've improved this space and it's making money for the city, and now they want to turn off the tax spigot."
There is some uncertainty as to whether the 10-day window in the order requires that he close by June 22 or 25, says Siegel. But despite the order, Siegel says he hopes to negotiate terms with the city — primarily halting sales of gay adult magazines and films — that will allow him to remain open while he reapplies, perhaps as an art gallery.
"I don't have to sell magazines and films, but I want to stay open as a gay conference center, a meeting place for gay men," he says. "We're not a fire safety hazard. We're not serving alcohol. We're out of the way. We're not causing anybody any trouble."
Siegel adds that his 20 employees, many of whom he says worked at his Southeast venue, are hopeful that a complete shutdown can be avoided. For his part, Siegel, who also serves on his local Advisory Neighborhood Commission in Southeast, says that if he can't make headway with DCRA, the next stop is Mayor Adrian Fenty's office.