When was the last time an alcoholic hit man was a breath of fresh air?
Perhaps never, but You Kill Me provides a wonderfully refreshing change of pace from the countless comedies this summer which rely on sophomoric humor and bodily-function jokes. At once funny and dark, director John Dahl strikes a fine balance in this understated film. It's darker than Grosse Pointe Blank, deeper than Mr. and Mrs. Smith, and a hell of a lot smarter than both of them combined.
Buffalo, New York — where you're either working or drinking. For Frank Falenczyk (Ben Kingsley), the designated hit man for his Polish "family," it's not a good idea to combine the two. While Frank has found ways to survive as a functioning alcoholic (his snow shoveling motivation is ingenious), when he passes out and misses a big hit, he's sent to San Francisco to either dry out or get hung out to dry. Family may be family, but business is business.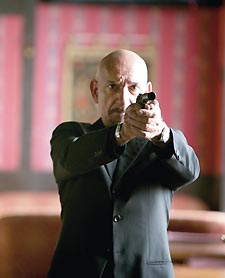 Sir Ben Kingsley
This set-up is done with remarkable speed and efficiency and soon Frank is in the City by the Bay, forced into Alcoholics Anonymous and dressing corpses at a funeral home. It's safe to assume that men in Frank's profession have few boundaries, so it's no great surprise when Frank hits on one of the bereaved, Laurel Pearson (Téa Leoni). Between scoffing at the emotional openness of AA meetings, learning how to apply make-up to dead people, and trying to figure out how to date while sober, Frank's life is bizarre.
Kingsley does a wonderful job as the tortured Frank, bringing compassion to a character who doesn't deserve any. He's a drunk and a killer for crying out loud — what's there to like? In fact, you don't know why you're on his side in the first place: if he sobers up then he goes back to killing, if he continues to drink then less people are going to die. It's a wonderful catch-22 for his AA group, but somehow in the end all you care about is whether or not he gets the girl.
Leoni provides one of her best performances in years as Laurel. She has some of the sharpest and wittiest lines of the movie delivered with deadpan precision. Laurel's logic and insights are just enough to add the needed edge to her character that allow you to believe that she might actually be someone who would end up with a professional killer. She just has that quality about her.
The chemistry between Kingsley and Leoni is the real gem in this movie. With all the older man/younger woman combinations out there, this is a match that isn't downright creepy and one you think might actually work. When Laurel finally asks Frank why she should bother putting up with his drinking relapses and odd profession, he replies, "Because you don't want to be alone any more than I do." It's a brutally honest, insightful and cutting point that makes you root for them even more.
Rounding out Frank's support structure in San Francisco is his AA sponsor, Tom (Luke Wilson), who works in a toll booth on the Bay Bridge. As perhaps the most understated gay character in recent cinematic history, Wilson does a great job by playing it calm and cool. Sporting greasy hair and a spiffy toll collector uniform, it's a great supporting role that adds immeasurably to the film.
You Kill Me

Starring Ben Kingsley, Téa Leoni, Luke Wilson
Area theaters
Ultimately, Frank is called back to Buffalo and must decide which path to take. In San Francisco, he has a chance to make real change in his life, but in Buffalo he has both family and business to take care of — and amends to make (AA's ninth step). Frank's amends might not be the sort the programs intends, but to each his own.
The biggest problem with You Kill Me is that it feels as if 20 minutes should be cut from the film to speed up the pace. However, when the lights come up and you look at your watch expecting two hours to have passed, it's really only been 90 minutes. There is little that actually seems extraneous so it's difficult to pinpoint what should be cut, but the climax comes not a minute too soon.
You Kill Me is slightly odd, but thoroughly enjoyable. It's a wonderful alternative for those looking for some laughs and entertainment, but who can't stand the thought of sitting through hours of unwanted pregnancies or spandex-clad superheroes. Like Frank's job, this one is a hit.