Sunday, June 10, 11am-6pm
Take Metrorail on the Green or Yellow Line or Metrobus routes 30, 32, 34, 35 or 36 to Archives Navy Mem'l – Penn Quarter or Metrorail on the Red Line to Metro Center.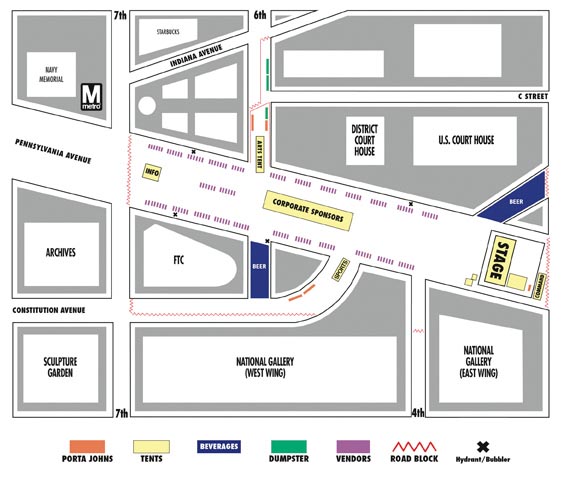 WELCOME TO HISTORIC PENNSYLVANIA AVENUE, SITE OF THE CAPITAL PRIDE STREET FESTIVAL, JUNE 10, 2007.
The Capital Pride Street Festival is located along Pennsylvania Avenue, between 3rd and 7th Streets NW. The entrance to the Capital Pride Street Festival is at 7th Street. The Capital Pride Main Stage is situated at Pennsylvania Avenue and 3rd Street, NW. The site will open to the public at 11 a.m and close at 6 p.m..
Show Your Support of Capital Pride!
Capital Pride is produced for the community by 14 local non-profit organizations and is the largest one-day event in Washington, D.C. Please make a donation when you enter the festival to help cover the costs of this year's event and to provide seed money for 2008. Those who donate $5 or more will receive discounts on the purchase of beer garden drink tickets and official Capital Pride merchandise.
Please remember the following rules:
CERTAIN ACCESSORIES ARE NOT ALLOWED!
No coolers, glass bottles, cans, thermoses, etc., are permitted on the Capital Pride Street Festival Site.
PAWS FOR A MOMENT!
We love dogs. But the pavement at the Capital Pride Street Festival can be very unforgiving to our tender-footed friends. Let them enjoy the day at home where it is cool, with plenty of food and water.
DON'T GET A TICKET!
Important note to all of our visitors. The Police prohibit the consumption of all alcoholic beverages on all sidewalks and park property. The Capital Pride Street Festival is surrounded by Federal Government Property. Be aware of your surroundings, as the Police will ticket and arrest anyone disobeying the law. The consumption of alcoholic beverages is ONLY permitted in the Capital Pride Street Festival beer gardens.
TOSS IT!
Disposing of your trash is very helpful to Capital Pride and the city. Receptacles and boxes will be located throughout the site for your tossing pleasure.
BAND AID!
Addressing medical concerns and problems that you might experience is a priority for us. Several ambulances and a First Aid tent will be available to assist you.