Pride Weekend Wonders… Oops, Hearsay did it again. By the time Hearsay's weekend rolled into Monday, it was too late to turn back. Hearsay is out — worn out, to be exact, after a full bout of Pride with a Cherry on top. Two weekends royally packed into one. What fun! No, seriously, what fun!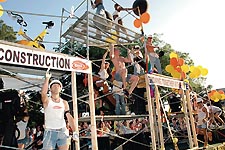 Results the Gym's 2007 Parade float
Let's begin with the Capital Pride Parade, which, despite construction on P Street, ran like clockwork. No problems with street closures, no problems with missing police officers, no late stepoff, no problems at all. It's as though we had a new mayor in this here town! All of the usual suspects were present — Jim Graham waving his straw hat, Lena Lett holding tight to her disco ball, a Whitman's Sampler of dykes vroom-vrooming on their bikes, the Centaur Motorcycle Club's big manly rig, Phase 1's less big (but no less manly) rig, Cowboys lifting their legs skyward, and a group of Asian gays armed with water cannons cheerfully spreading AQUA. There were also some new additions, notably a float from 17th Street newcomer Jack's, which bounced a female float sitter along the way, and Be Bar, which put forth a homage to High School Musical that would have made Disney execs blush. Mayor Adrian Fenty tossed strings of beads to the strings of bead-crazed crowd. Seriously, have you ever noticed how people go gonzo for a string of beads at the Pride parade? Stand back and observe sometime — it's a veritable frenzy of "gimmee, gimmee, gimmee!" People, it's not like the beads contain a magical, mind-altering substance. The people who used to toss those out to the crowd are now safely behind bars. These are just plain old ordinary beads. It's not like you're getting a pearl necklace or anything. (Well…) Hearsay missed the presence of longtime D.C. Different Drummer Major Ed "Shut Up and Twirl Me" Wilson, unable to participate this year due to an accident involving a big chunk of wood and his thigh. As usual, the PFLAG contingent generated the biggest response from the crowd. We love our gay-loving heterosexual parents, don't we? After all, we wouldn't be here if they hadn't had the kind of icky sex that allows for us to be born unto the world. Kinda funny how that works out. After losing last year's best float award, Results THE Gym pulled out the heaviest, largest construction machinery it could find and impressed the crowd, in the process winning top honors. Don't believe otherwise — size always matters to a homosexual assemblage. Most folks in the parade were not on big rigs, but, in fact, humbly on foot, many stomping their praise for the lord. Was it just Hearsay or are the Presbyterians taking over? Before you know it, even Hearsay will be feeling predestined….
Festival fun… The Capital Pride Festival can get pretty wild. And that's true even with the drinkers forced into alcohol confinement. "Fuck that, fuck that, fuck that!" came the yelling from the stage. Such language! Has the D.C. Council made Pride a No-Smoking Zone? No, no, a thousand times no. It was just an act — the opening number from the dynamic lesbian hip-hop duo God-Des & She. G&S were only one part of day's entertainment that was as diverse and as stimulating as ever — from headliner Crystal Waters (who performed simulated sexual acts with her dancing boys, who then performed simulated sexual acts on each other) to Rachel Panay, who wore a red dress this year, replacing the shimmering pink number from last, to the gals of Wicked Jezabel, who rocked the stage so hard the dome of the Capitol shook, to the dancing hijinks of the D.C. Cowboys, currently the city's busiest group of dancing half-naked men. Randi Miller, the Voice of Metro ("Doors closing. I said DOORS CLOSING! GET YOUR FAT ASS IN THE CAR!"), was late for her stint as emcee. The reason? She got stuck on Metro. Hearsay lapped up the irony like a kitten laps milk — or a giraffe laps peanut butter from Hearsay's nether-region (hey, don't knock it until you've tried it!).
Hearsay has nothing but praise for Capital Pride organizers, especially Dave "I'm Just a Broadway Baby" Mallory, who continued his winning streak this year as director. This was Dave's second year — and this was the second year the weather was absolutely perfect. Direct connection to Mother Nature or pure coincidence? You decide. Hearsay spotted various folks down at the festival site, who, like Hearsay, were hitting multiple events over the course of the weekend. Keith "Friend to You" Petrack and Michael "Sweet On You" Fetchko were there, as were John "SIR" Skwiot and Paul "Shapeshifter" Zinser. Among the cultural elite, Hannah "Ford's Closure" Olanoff was spotted, as was the Shakespeare's Michael "To Be or Not to Be" Kahn and One-In-Ten's Sprite-In-Charge Margaret "I'm Not Related to Bill" Murray. Among the many, many, many, many, many, many, many, many, many — pause for effect — MANY activists, the most legendary, Frank "Gay is Good" Kameny, insisted that despite the reports to the contrary in The Advocate, he's not yet dead. In fact, Frank is a living testament to the very ideal of Gay Pride. Hearsay proposes that next year's Pride be renamed The Frank Kameny Carnivale, and feature such rides as the Lost & Found Tunnel of Loooove, the Chicken Hut Moonbounce, and a looping, corkscrewing rollercoaster dubbed The Big Mattachine Scream Machine….
Rachel Panay (left) at 2007 Pride Festival
And now for a word about Rachel… Rachel "It Girl" Panay sang not once, not twice, but 3,052 times last weekend, first at the parade's end, then at Pride's phenomenal dance party at LOVE, then at the festival, and finally at her apartment in front of a mirror. As Miss Panay prepared to depart the festival's fenced-off backstage area, a throng of shirtless, tie-sporting boys appeared toting signs in support of Israel. "I'm not Jewish," Rachel allegedly said to the pretty young things, "but I do like my cinnamon-raisin bagels with a shmear and some lox." Spoken like a true shiksa…
With a cherry on top… Hearsay just loves the call of the wild. So when it heard that Cherry was moving to the already wild time of Pride weekend, well, it sounded like a wild, wild weekend for the ages! Let the games begin, somebody proclaimed — but Kat "Call Me Baby" Danaher proclaimed it the loudest and longest. So begin they did. They dressed up the old City Museum for Cherry's Main Event Saturday night, and the place looked gorgeous, from the outside in. It was a hot event. There's was the hot performance from Breathwaite, singing and sharply dancing with his hot crew of hot backup dancers to his hot new song, co-produced by the night's hot DJ, Dan De Leon, firing up Don "Oh Happy We" Trott, Carlos "Home Sweet Homo" Arias, Al "Wild Child" Baggett, Paul "Wonderman" Richard and the ball-capped muscle bear couple Bob Halbert and Onelio Lopez, among the thousand-plus dancing throng. Meanwhile, in the side room Cobalt's extra hot Jason Royce got fierce with tribal beats and wicked with house melodies, proving his skills are as current as they are retro….
Brokeback moody… In addition to Pride and Cherry, last weekend Moody "Doctor to the Stars and Bars" Mustafa celebrated his 50th birthday the way he always celebrates his birthday — by throwing one of the city's best annual private parties, and all for charity. Mustafa took to the stage repeatedly at Club Five Saturday afternoon as he played out variations on his party's theme of Brokeback Mountain. The club was decked out with bales of hay and other cowboy-ish accouterments, and Moody recruited sexy boys to play his cowboy cohorts. But the highlight performance was given by Glanson "Here We Go Again" LaBarrie. LaBarrie dressed up in drag to play Moody's wife, after catching him riding more than just horses and her. LaBarrie's bravura, fully-realized performance to Mary J. Blige's "He Think I Don't Know" even seemed to startle the good doctor a bit.
But then it was right back to the cute, high-energy and playfully mashed-up music of Rick "Ricktified" Mitchell. The Atlanta DJ spins Mustafa's party every year, but last week's was his last — his last party ever, in fact, as he has retired from the scene. Hearsay hears all was lovely and crowded up on Five's renovated rooftop, where Kevin "Band-Aided Leg of" Steele and John "Just Like That" Darnell were seen doing their usual routine of gawk and gossip. But Hearsay saved that for later in the weekend, and instead got freaky dancing on and off the stage with Brian "Live for Results" Eubanks, Chris "Whiplash" Cowman, David "Pumped Up" Van Lear, Eric "Ricochet" Muhl and Ron "Best Show In Town" Brown, who just a few hours later would be seen walking the parade route in drag carrying his trophy as Miss High Heel 2007 — that is, last year's winner of the High Heels Race. My, those legs are long and fast. Oh, and Hearsay heard a rumor but was sworn to secrecy. Do people really expect Hearsay to keep its mouth shut? Well, we won't open it wide for once, how about that? So, being a little discreet, all Hearsay can say is that someone it knows is soon to become yet another porn star calling D.C. home. That's all Hearsay can share for now….