Dance music hitmaker and '90s pop sensation Crystal Waters has always had strong support from the gay community, in part because of her chosen genre of music. Dance music, after all, holds a near-monopoly on at least gay men's attention. But when asked about it, Waters jokes about another, more immediate reason for her gay appeal.
"Hanging out on 17th Street didn't help!" laughs the long-time Silver Spring resident, who regularly people-watched on the patio of the old Foodbar. She now makes occasional visits to Halo.
When she's not hanging out in the gayborhood, Waters repeatedly provides the soundtrack to our times at play. She's responsible for some of the catchiest, most indelible pop and dance hits of the past two decades. "Gypsy Woman (She's Homeless)," "My Time," "100% Pure Love," "Say…If You Feel Alright," "Come On Down" — her songs all feature her signature sassy but sweet, playful party sound. This year she's making her return to Capital Pride after nearly a decade away, and after several years' absence from the dance scene.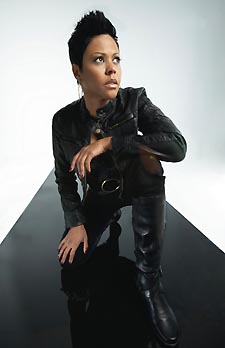 Crystal Waters
Finally, Crystal Waters is back.
"I know half the people down there," Waters says about Pride organizers, "and they finally asked me again." She then adds, with a laugh, "I think they got tired of me a little bit." The timing is also fortuitous: She's just released a new single, another infectious club-pleaser, "Destination Calabria," which could become this summer's dance anthem.
"We were hoping that by the time it got to be gay pride my new record would be here in the states," she says. After Los Angeles Pride the night before, D.C. will be the first place Waters performs it in the states.
And that's just the start of more to come from Waters.
"It always happens all at once, you know? I've taken a long enough break I think," Waters says.
The break itself wasn't exactly planned. Strictly Rhythm Records went bankrupt a few years ago, leaving Waters without a label home, and leaving in limbo several singles she had already recorded. But now, the British dance label Defected has revived Strictly Rhythm, and with it, in some measure, Waters's career. More than ever the dance genre is driven by singles, yet Waters hopes to put together a new album in the coming years.
Meantime, another single, "Enough," will be out soon. Though not right away: Her label is "gonna ride the storm as long as they can," Waters says, referring to letting "Destination" run its course this summer, even pushing for mainstream attention. "They're going for radio with it, so that's rare," she says. "Keep your fingers crossed."
Waters hasn't had mainstream attention in a decade, and her very first hit remains her biggest. "I had the melody, but I just couldn't find any words short enough or that made any sense for the hook," Waters says about the genesis of "Gypsy Woman." "So then I finally said, 'Who could be singing this little "la da dee, la dee da?' And that's when I thought of the woman who used to stand on Connecticut Avenue and sing gospel songs." Waters hasn't seen or heard from the woman she made famous in a while.
"After the song came out she disappeared, moved to Florida or something," says Waters. "The people were just bothering her too much. Hopefully she's doing well."
Waters encountered this Connecticut Avenue homeless woman while working for the Washington D.C. Parole Board. "I was bored with my job and I needed something else," Waters says, but she wasn't sure what. Though Waters comes from a musical family — her father was a jazz musician, her aunt was the famous Cotton Club singer Ethel Waters — Waters herself hadn't even thought to get involved with music because, she says, "I was too shy." Her co-workers at the Parole Board encouraged her to give it a shot.
Waters didn't initially intend to sing "Gypsy Woman." That was one of several songs Waters offered to producers working with fellow '90s dance-pop sensation Ultra Nate. They encouraged her to record it herself. Now, of course, you can't imagine Nate or anyone else singing it, or seeing Waters perform without it. "I think I'll be singing 'Gypsy' till I die, you know," Waters says. "It pays the bills, sweetheart."
Waters hasn't moved from the D.C. area since arriving here more than two decades ago from New Jersey to attend Howard University. Aside from socializing in Dupont Circle, Waters declines to talk about her life outside of music, saying, "D.C. is small enough — people who know me, they know."
Crystal Waters will perform Sunday June 10, at approximately 5:25 p.m. on the Capital Pride Festival Mainstage, closing out the day's entertainment.
Check out Crystal Waters' Official Site