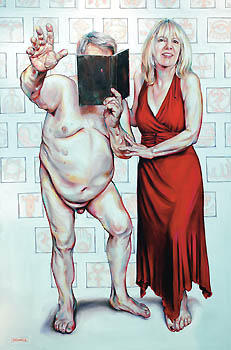 Margaret Dowell
"Self-Portrait With Holy Man"
4′ x 6′
oil on canvas
2007
Margaret Dowell learned her work ethic early in life, toiling in Maryland tobacco fields to help keep her family afloat.
"It was tough," she readily admits. "The tobacco farms were very labor intensive. In order for a farmer to survive, he had to have the labor of the children. Even through college, we still went home and helped."
While still spending about half her time with her father on his farm where she maintains a studio — and now enjoys running water, as of last spring — that work ethic propelled Dowell to first a master's degree in art, followed by a Ph.D. in education. There's no telling the root of what made her adamant that her art be accessible.
"I decided that I was making art for an elite population, and I decided I wasn't going to play that game anymore," she says, pointing to the successful start of her career as a sculptor. Instead, Dowell moved to representational art, teaching herself to draw by executing a self-portrait every day for one year.
"I made the decision about 20 years ago that I was going to do a type of art that would be recognized as something decent, but that it would also communicate with anybody — from a little kid to a renowned art critic. That's what I aimed to do, and that's one of the reasons I'm thrilled to be in 'Art in Heat."'
Dig a little deeper, and the farm roots make way for the influence that comes from Dowell's lesbian identity.
"I've done a lot of drag work recently. I think it's one of the coolest performance arts. My orientation has certainly dictated my work in that way. It's also made me empathize with a lot of people outside societal norms. That makes it easier to do portraits."
But with her appreciation of common people and intimate portraits, Dowell cannot shake the love of the isolation she learned as a girl living rather remotely in Calvert County. Today, though she divides her time between two studios, both are rural farmhouses.
"I have always felt the need to be just kind of outside of things. I like that solitude, and I always have. But there's a lot of beauty around me."
For more information, visit www.margaretdowell.com.
Click to Read More About Each Artist