Since everyone pretty much knows the deal with Hamlet, the only question is if the Shakespeare Theatre Company's current production is the interpretation for you. So, try asking yourself this: How much do you enjoy spending time with your friends' incredibly precocious kids who need to be the center — I mean really need to be the center — of everyone's attention?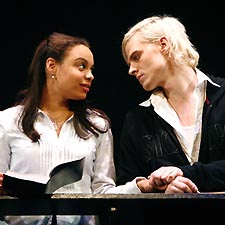 Young and restless: Beck and Carlson
Or let's try another one: Are you the type who likes trailing around after gorgeous but thoroughly unattainable young men who assume you live for their every affected flinch of the eyebrow?
If you answered "yes" to either, then you will be in rapture with the new production at the Shakespeare Theatre. But what about the rest of us? Jeffrey Carson in the title role delivers his Hamlet with relevance, intelligence and high-beam charisma, but this is an extremely twitchy, idiosyncratic, pant-splittingly energetic and most effete prince. While his completely non-threatening schoolboy-gone-sort-of-bad seems to have had the female drama-majors sitting near me on seat's edge, the rest of us were left flirting with a migraine. Is that churlish? Well, it's still true.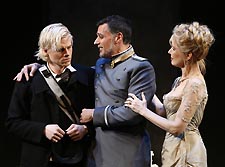 And yet, having said that, Carlson, like any precocious child, has so much sheer talent and potential he can't truthfully be ignored. Despite his tween-appeal, Carlson is amazing in many ways. He has the language down so well that one practically forgets it's Shakespearian English. He is as immersed in the themes and mores of the play as, for example, the far more experienced William Houston of the RSC was in Coriolanus (though thankfully not his equal in malarial fervor). Thus we see an emotionally intelligent and unaffected soul in Carlson; it just needs to worry less about being cute and likeable. Taking it down a notch and getting ugly could bring a truly transcendent performance out of Carlson, an actor to watch as he seasons.
Carlson creates quite a signal flare, but there are one or two other actors who shine as brightly in their different ways. Hamlet's ill-fated love-interest, Ophelia, is played here by the wonderful Michelle Beck. Although it is impossible to believe that this Hamlet actually yearns or lusts for this (or any) young woman, Beck gives her Ophelia such a powerful and memorable presence it hardly matters. In her relatively few scenes she shows, with rare emotional fluidity, Ophelia's fragile confidence, then her painful vulnerability and finally her utter dissolution.
Robert Jason Jackson as Polonius, Ophelia's father and the king's counselor, gives another enjoyable performance, along with Ted van Griethuysen, who delivers his several roles with verve, precision and originality.
But others in the cast are disappointing: Robert Cuccioli as Claudius, Hamlet's sudden step-father and king, and Janet Zarish, as Queen Gertrude, in her most complicated relationship with Hamlet, never quite deliver. Whatever director Michael Kahn may have intended, they come across as characters on a daytime soap in dress, demeanor, and unfortunately, depth. There is obviously nothing wrong with the idea of bringing this story into the here-and-now, suggesting that Hamlet lives among the kind of people who can never be too thin or too rich, but without the ability to transcend the trappings, the concept weakens the drama.
And so, if your eyes fall from the main attraction, the rest of Kahn's production comes up somewhat uneven. There are moments of great entertainment, such as the fascinating Asian-themed theater sequence, and the sporadic appearance of the better players. But the bottom line is that if you are not inclined to indulge the very talented Carlson, you may long heartily to say "Goodnight, sweet prince."