It's kind of a no-brainer: Capital Pride is a community event.
That doesn't explain why Whitman-Walker Clinic has been the sole producer of the event — and the main organization carrying all the weight — for nearly a decade now.
"For several years it was because we were the only organization that was able to financially do it," says Capital Pride Director Dave Mallory.
"Again it goes back to the fact that it comes with a price tag."
In previous years, Whitman-Walker Clinic was budgeting between $150,000 to $200,000 to organize the event, says ReGina Newkirk, the clinic's director of development, who came on board in July 2006.
But it wasn't just the cost that raised a "room for improvement" flag for Newkirk. She pondered why other organizations serving the GLBT community were not involved in planning the weeklong events that conclude with a traditional weekend parade and festival.
"I knew that we were one of the larger LGBT organizations in the city, but we wanted to make sure that [other] organizations weren't excluded," she says.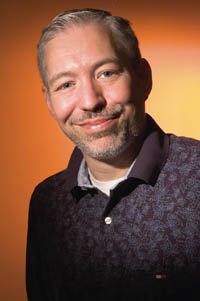 Mallory
In January, Whitman-Walker Clinic invited representatives from nearly 50 local not-for-profit GLBT organizations to meet and discuss Capital Pride. Thirteen of them joined Whitman-Walker Clinic as Community Partners by contributing funds, and an executive committee of six people, one of whom represented smaller organizations that could not afford the requested $1,000 sponsorship, was formed.
Capital Pride's Community Partners are: Capital Area Interweave, The Center, D.C. Black Pride, D.C. Radical Faeries, Dignity/Washington, Gay Men's Chorus of Washington, Human Rights Campaign, the Mautner Project, Metro D.C. PFLAG, National Youth Advocacy Coalition, Northern Virginia AIDS Ministry, One in Ten, Westminster Presbyterian Church and Whitman-Walker Clinic.
"Our theme is 'Together We Can, Together We Will,"' Newkirk says, "and I think what we're celebrating is the power within the LGBT community. Specifically once we unite and pull our strengths, pull our diversity, pull our creativity together, to really address the issues that are before us."
Pride 2007's budget was set after each of the sponsors determined how much money it was going to contribute. Newkirk says, noting that the budget was set at $128,000, about 75 percent came from Whitman-Walker Clinic.
"That is significantly less than [previous budgets]," she says, adding that in order to stay within that budget, organizers are encouraging festival-goers to make a $5 donation, which will garner attendees a bracelet that saves $1 off alcohol and merchandise. Also, the entertainment at Sunday's festival is exclusively local artists.
Newkirk says an account was established with the money that the Community Partners invested.
"All of the expenses are coming out of that account, out of the sponsor's initial contribution, with a few exceptions," she says, noting that revenue made at this year's event will go back to the partners, "in accordance to the percentage that they contributed to the budget."
"Once we make $128,000, what will happen is that 50 percent of the contributions will go back out to the partners, in accordance to the percentage they contributed, and 50 percent will go into a fund for Pride 2008."
"We hope that this will certainly be an opportunity for every sponsor to recoup their initial investment, [but] it's not going to be this great money maker," Newkirk says. "No one's going to come out getting five times more than they put in, but we believe that everyone should be able to recoup their initial investment in Pride."
Mallory says he is pleased with the progress that's been made in the short amount of time the groups have had to launch the new way of creating Pride.
"I think having the partners on board has really increased the perspectives and brought a lot more diversity to the event and a lot more diversity to the planning committee," he says. "It feels like there's much more community buy-in and support of the event. I'm confident that it's going to go well."
Newkirk agrees.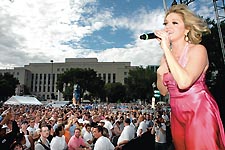 View from 2006 Capital Pride main stage with singer Rachel Panay
"The fact that we're working with 14 organizations to produce the event this year, I hope that people will see that the community can come together and that there is strength in numbers — that we have really broadened the event to make sure that all facets of the LGBT community are included, and that there are really more events to celebrate us."
That broadened scope included Washington's first Trans Pride, a 12-hour event held at Westminster Presbyterian Church in Southwest last week, as well as an event geared toward the bisexual community, Be Bi at Be Bar on June 6.
Since January, Pride's planning committee has been meeting monthly, till May, when the schedule increased to weekly meetings.
Mike Sessa, president of the Center-Home for GLBT in Metro D.C., attended some of those meetings.
"I think all in all there was opportunity to have input and that's the things that pleased me the most," Sessa says, noting that the Community Partners approach is beneficial to helping the Center grow in its own mission.
"It fits in complete synchronization, because we are about community…and that's a difficult thing because in D.C. everything is cause-based," he says. "You're either HIV services, or stop smoking services, or you are cancer-based, or you're youth-based, or you're elders-based. [The Center is] community based and it's kind of hard to figure out what the Center is about, but Pride I think exemplifies what the community center's mission and purpose are, better than I think a lot of other events."
On a personal note, Sessa says Pride is "about the things we have in common. This year, especially with the significant election on the horizon, we're celebrating strength in numbers again, in saying that we all have our differences, but in the end we all just want to be happy; we want to be with people that we love and we want to feel protected and feel safe."
Sessa recalls the very first Pride event he attended, in Boston in the early '90s.
"I realized for the first time that I was not alone. It gave me a foundation, and made me more comfortable with myself and it made me realize there's more people like me."
Find more information about this year's events in the Capital Pride Guide.