Cyndi Lauper's 21-year-old classic pop hit "True Colors" is already something of a gay anthem. Now it's set to become even more — a signature song for gay rights. Lauper has helped organize and headlines a 16-city, multi-artist tour billed with that song's title and a purpose to advance equality.
"Though I never intended it, 'True Colors' made a lot of gay people feel better," Lauper told the Chicago Sun-Times, referring to e-mails she's gotten citing the song in helping people get through coming out. "In a way, the True Colors tour is a culmination of what my music has meant to the [gay] community."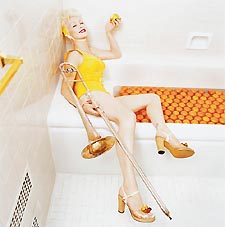 Girls just wanna have a cause: Lauper
The tour, which stops at Merriweather Post Pavilion this Sunday, June 17, is set to play out much like a national version of Capital Pride. Intended to become an annual event, this year's inaugural slate features a star-studded lineup of gay and gay-popular artists, from Lauper to co-organizer Erasure, as well Blondie's Debbie Harry and Rufus Wainwright. There are also up-and-coming rock bands The Dresden Dolls and The Gossip, both worth getting to know. Comedian Margaret Cho will act as host and emcee of the five-hour marathon, and at some point Cho will be joined by Rosie O'Donnell.
In an interview with the Las Vegas Review-Journal, Lauper said the goal is "to bring everyone together. We are all family." Whether gay, straight, transgender or something in between, Lauper wants everyone to celebrate. "I want to sing really loud and sing really soft. I want to laugh and cry. And I want to do it all together."
The purpose is also partly to raise awareness about continuing struggles with gay rights. Lauper, a longtime supporter of gay rights with a lesbian sister, will urge concertgoers to help push for congressional legislation that makes violence against gays and sexual minorities a federal hate crime. In addition, one dollar of every ticket sold will go to the Human Rights Campaign, and both Parents, Family and Friends of Lesbians and Gays (PFLAG) and the Matthew Shepard Foundation are involved with the concert.
Though stylistically diverse, all True Colors artists offer dramatic pop influenced to varying degrees by musical theater, cabaret or punk rock. The featured artists will perform new or relatively new material in addition to any classics. Both Lauper and Debbie Harry are scheduled to release new solo albums this summer, and both are expected to preview new songs from those sets. Erasure and Rufus Wainwright will each perform from strong new albums released last month. Wainwright may sing a tribute to Judy Garland and The Gossip will almost certainly sing its blistering and brilliant recent hit, "Standing in the Way of Control." Bluesy and ballsy lead singer Beth Ditto, a lesbian, wrote the Portland, Ore.-based trio's song in protest to anti-gay marriage activities.
"I wrote the chorus to try and encourage people not to give up," she has said. "It's a scary time for civil rights, but I really believe the only way to survive is to stick together and keep fighting."
The Boston-based Dresden Dolls is a partnership between bisexual lead vocalist and mad-pianist Amanda Palmer and the cross-dressing-but-straight drummer Brian Viglione. The two will perform from its tuneful but tart cabaret-punk repertoire, including early hit "Coin-Operated Boy." In between acts, gay-popular Cho will likely include some routines from her new live show, Sensuous Woman, which she plans to tour with later this year. Cho is also expected to perform a song with the Dresden Dolls.
"I am thrilled to be a part of this tour because I am about as colorful and as queer as it gets," Cho says in a press release. "Who else is going to keep all those Queens in line?"
To some it's the last-minute addition of the outspoken O'Donnell that will be worth the price of admission. "It's a dream come true to be on the road with Cyndi Lauper," O'Donnell said in her only official statement about the appearance. "I'm almost a rock star!"

Cyndi on "The View" via YouTube