TRUE COLORS, SHINING THROUGH… The weather was perfect, the crowd about as queer as they come, and then there was the lineup. Last Sunday's True Colors concert at Merriweather Post Pavilion proved several things. That The Gossip deserves wider recognition. And actually, that Erasure does, too — after 22 years, they've still got it. It also proved that concert emcee Margaret Cho can still give Kathy Griffin a run for the money as funniest gay-popular comedienne around.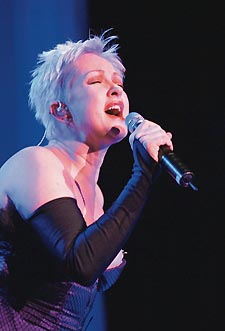 Cyndi Lauper on stage at True Colors Tour
The concert was well-attended but far from sold out. It was hard to pick one single performance as the night's highlight. Nonetheless, it wasn't until Erasure took to the stage more than three hours into the evening that the crowd was on its feet and truly festive. The event ended in high spirits too, and we don't just mean the ensemble performances of ABBA's "Take A Chance On Me" by Erasure or "True Colors" by Cyndi Lauper. The concert also lived up to its promise of previewing headliner Lauper's new music. Unfortunately, because of the demands of the tour, which Lauper co-organized, the release of her next album, tentatively titled Savoir Faire, has been pushed back to early next year. But the first single is expected in just a couple months — and "Set Your Heart" was the best of the new material performed. The song, a waiting-in-the-wings dance anthem, is a production with D.C.'s own Richard Morel of Blowoff fame.
An occasional Deep Dish collaborator and the man behind the dance act Morel as well as the remix handle Pink Noise, Morel was only scheduled to produce one song with Lauper. Apparently they hit it off so well, now his signature sound — a deep, serious house generously coated with sweet pop-rock — is flavoring an album intended all along as a return to dance-pop. Morel is working on four songs with Lauper. Lauper has also worked on tracks with Basement Jaxx, the British fun and funky house duo, one of dance music's very best; Bob Sinclar, the sweet, world-beats-focused Frenchman; and the Scumfrog, the playful, pop-savvy New York-based Dutchman who's been MIA for a couple years. Quality producers all, so this could and should be the album to give Lauper some renewed attention. Because like those on her hand-picked True Colors Tour, Lauper definitely deserves more attention….
Advertisement

| | | |
| --- | --- | --- |
| Erasure: Light at the End of the World | Deborah Cox: Destination Moon | Cyndi Lauper: Essential |
TRUE COLORS SOUNDTRACK… Morel also remixed the concert's namesake song, and his Pink Noise remix of "True Colors" leads the Cyndi Lauper Presents The True Colors Soundtrack, available soon at iTunes but not hitting physical stores until August 7. Included on the 10-track set, to be released by Tommy Boy's Silver Label, is a track from each of the tour's musical performers, both those that appeared Sunday as well as those, like gay dance-rapper Cazwell and lesbian folk-rock pioneers Indigo Girls, who have appeared elsewhere on the tour. Sounds like a very good, a very gay soundtrack….
STILL MORE MOREL… You'll be hearing more from Rich Morel than just his work with Lauper. With an industry veteran, he's launching a new label, called Outsider Music. And there's a former gay porn star ready to break it in: Colton Ford. Morel's remix of Ford's new single "The Way You Love Me" will be the first release, set for next month.
Meanwhile, Morel expects to release later this fall his eponymous dance-rock band's next album, The Death of the Paper Boy. It will be led by first single "Flawed." And he continues to churn out Pink Noise remixes, most recently getting accolades for remixes of The Killers and Yoko Ono….
ERASURE'S ENDURANCE… Erasure's classics are still as irresistible as ever, but Andy Bell and Vince Clarke's new material, from Light at the End of the World, stacked up surprisingly well with the classics in concert — both first single "I Could Fall in Love With You" and new release "Sunday Girl." So it's a shame to report that's all the Erasure we'll see here for a while. The duo will embark on a solo tour after True Colors wraps next weekend in California, but the closest the duo will get to us is Brooklyn Friday, August 3. So then, "Fly Away" ain't just the name of another new Erasure song….
DEBBIE HARRY'S WITE-OUT… Unlike Lauper, Deborah "Debbie" Harry's preview of her new material at the True Colors concert didn't do much to entice us. The Blondie singer performed only her solo material, both new and old. She was seemingly there only to support her new solo album Unnecessary Evil, due in August. She spoke generically, with little emotion or expression, about the concert's great lineup and venue — but nothing about the event itself or its purpose of raising awareness for gay rights and money for the Human Rights Campaign. During one song, she kept shouting what sounded like "Wite-Out" — and that's how we felt too, about the concert's only real lowlight. We screamed it along with her at song's end, but unfortunately, she typed on for a few more numbers and it's all still inked into our memory….