From her old band, The Outskirts of Town, to its new incarnation, Wicked Jezabel, righteous rocker Pauline Anson-Dross has been a Capital Pride mainstay for years. From the arts stage to the main stage, she wouldn't have it any other way.
"This year, we plan on doing the main stage and the arts stage. It's a lot of running around, but it's a lot of fun. It's an honor to do both."
Regardless of which stage Anson-Dross and her fellow Jezabels occupy, she insists the band's flavor doesn't change and audiences can count on a good time.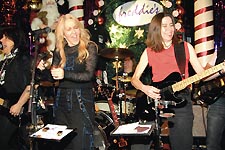 Wicked Jezabel perform at Freddies Beach Bar
(Photo by Henry Linser)
"We blow it out like a big dance party. We give it all we got. We treat the stages equally and we keep the energy high."
New for the band this year: a gig at the Hard Rock Café on June 1 to kick off Capital Pride 2007.
"We've never played there before," Anson-Dross says, adding that the band probably won't leave behind a guitar strap or other memorabilia to add the Hard Rock Café's eclectic décor. A photo might be more appropriate. "We'll autograph it and make 'em put it on the wall. It'll say 'We were here, dammit!"'
Regardless of whatever legacy the ladies of Wicked Jezabel managed to leave behind at the Hard Rock, their legacy as part of Washington's GLBT community and as one of the mid-Atlantic region's most kick-ass party bands is indisputable. But don't expect any Keith Richards-esque moments from these Wicked Jezabels — which includes Anson-Dross, her partner Davi Anson-Dross, Ginger Starling, Mickey Dehn, Sandy Dumas and Meri Schaefer — in the Capital Pride beer garden. Their act comes with a little decorum and humility.
"We just want to be involved in as big a celebration for Capital Pride as we can, all week long. We're just really grateful to be part of it. It's going to be a wicked blast!"
Wicked Jezabel is scheduled to perform Sunday, June 10, at approximately 2:50 p.m. on the Capital Pride Festival Mainstage. Times are subject to change.
To read Metro Weekly's interview with Pauline Anson-Dross, please click here.