It was probably one of those ideas followed by the exclamation, "That's so crazy it just might work!" Don't simply create a stage version of John Updike's novel The Witches of Eastwick (yes, it was a novel first, and one you should read if you've not already), but make it a musical. And while you're at it, embrace the fact that most members of your audience are going to think "Cher" before they think "Updike." Make it funny. No — make it bawdy. And make it so dynamic and large that the audience leaves wondering what it would be like in a house eight times the size of your 260-seat theater.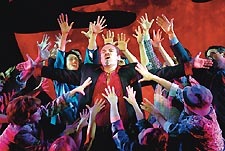 Hands on: Kudisch
Signature Theatre's American premiere of John Dempsey and Dana P. Rowe's The Witches of Eastwick proves that the idea was, in fact, crazy and works beautifully. Crass and sarcastic and filled with songs that will take up residence in the back of your head, Witches is a sensational, stage-filling musical.
For the few unfamiliar with the plot, Witches tells the story of what happens when three women in the small New England town of Eastwick wish for the man of their collective dreams. Alexandra (Emily Skinner) is a struggling sculptor, Jane (Christiane Noll) is an uninspired cellist and mousey Sukie (Jacquelyn Piro Donavan) is an inarticulate newspaper reporter. They ask for the impossible and, unsurprisingly since this is a musical, get it. Sort of.
It turns out that Darryl Van Horne (Marc Kudisch), the stranger who arrives in town perfectly on cue is everything they wanted. He's tall, handsome, wealthy, sexually insatiable and, one minor point, the devil. Fortunately, the last bit doesn't really get in the way till much later.
Witches boasts a stellar cast of Broadway veterans led by the Tony-nominated Kudisch (Chitty Chitty Bang Bang) who grabs the stage from his first entrance and dares the audience miss a moment of his hip-swiveling performance. Emily Skinner also comes to the Signature stage with a Tony nomination (for Side Show) and the kind of voice that resonates down to your toes. It's rich and easy and enchanting.
Most outstanding is the remarkable chemistry among the three female leads. Not only is it absolutely believable that they are best friends, the camaraderie of their voices in the show's final song, "Look at Me," is a lovely gift for the audience to take away.
If there is a single down note for the performance, it's that this is a big, ballsy musical that occasionally feels hampered by the size of Signature's ARK Theatre space. The visible evidence of some of the stagecraft robs from the musical's witchcraft.
However, this is a minor point and something that shouldn't be used as a reason not to go. You'd be crazy to miss this one.
---
You're at lunch, trying to read a bit before returning to work when the man at the next table's cell phone begins to ring. And ring. And ring. Exasperated, you finally turn to him and politely ask if he'd please answer his phone. This is not an easy thing to do, as you are one of those people more accustomed to remaining anonymous in the world.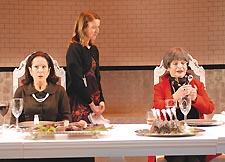 Dead Man's Cell Phone
When he doesn't so much as acknowledge your question you go over and discover that he is dead. And then his cell phone rings. Again. And again.
Do you answer it?
This is the set-up for Pulitzer Prize finalist and MacArthur "genius" Sarah Ruhl's new play, Dead Man's Cell Phone, enjoying its world premiere at the Woolly Mammoth Theatre Company. In Ruhl's imagination, Jean (Polly Noonan) does answer the phone. And then she answers again. And again. Each time finding herself drawn more into the life of the dead man, Gordon (Rick Foucheux).
Ruhl has created a play that is incredibly difficult to pin down. Lines that will make some audience members laugh out loud will chill others. Meditations on the ultimate effect of technology like cell phones will strike some as overwrought while others will nod in agreement. The same character will appear to be a cartoon to one person and resemble a family member to another. It's a game of artistic cat and mouse that some will find frustrating as poignant moments are jarred apart by hysterical laughter.
Audiences are fortunate to be guided through this difficult piece by such wonderful actors as Noonan and Foucheux, as well as D.C.-favorite Sarah Marshall, who plays Gordon's mother, and Woolly company member Naomi Jackson as his wife.
As is almost always the case with a Woolly production, Cell Phone not only benefits from strong material and a cadre of skilled actors but some of the area's most articulate sets and stage direction. The show's minimal props are ushered on and off stage by an ensemble of anonymous men and women in business suits moving with a disinterested, military precision that brilliantly accentuates the writer's intent. The graceful appearance of a set of simple house-shaped lanterns almost deserves its own standing ovation.
There is no denying that Ruhl is an incredibly smart and skillful writer well deserving of her genius status. It is equally undeniable that Woolly Mammoth has once again succeeded in taking a difficult piece of theater and made certain it is thoughtfully and intelligently presented. What remains to be seen is how audiences will react to a work that refuses to be categorized. Again. And again.