Ed Bailey and John Guggenmos, the masterminds behind a string of gay nightclubs and bars for nearly two decades in Washington, including Tracks and VelvetNation, are no longer co-owners with Babak Movahedi of Halo, the popular gay bar located at 1435 P Street NW.
"We're not involved anymore," Bailey says. "It was a long [and] lengthy decision."
The negotiations began in March and were finalized in late June.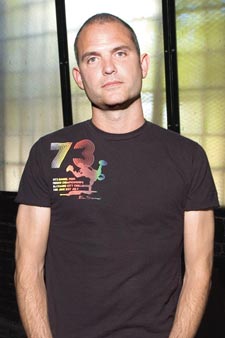 Ed Bailey
(Photo by Todd Franson/file photo)
"It was not part of the business plan to build it and move on," continues Bailey, "but it just seemed after a few years like the right decision…. We are very sad to move on."
The departure from Halo marks the first time in 18 years that Bailey and Guggenmos are not affiliated with a nightclub or bar that is currently operating in Washington.
But that will soon change, Bailey says.
While the details are at this time limited, Bailey says the duo have acquired a 20,000 square-foot building in Northwest Washington's Cardoza-Shaw neighborhood, which they plan to transform into a two-level nightclub.
"It's something that I think has been missing a little bit, kind of a bigger-scale dance club. We think the timing is right, and the location is right — a Northwest location that a lot of the residents in the gay community would be able to walk to, and not have to [go] all the way across the other side of the city… like all the big clubs seemed to have always been…. This is something that's going to be pretty much in our own backyard."
Bailey says he is hoping the currently unnamed club will open its doors before the end of the year, but that is subject to change.
"That is absolutely the goal, and I believe a very achievable goal, but…I'm at a state right now where I can't predict. It could go either way — it could be really quick or it could take forever, until we get a little further into it, I won't really know."
Movahedi, now the sole owner of Halo, says he is "excited" about his plans for Halo.
"There will be some positive changes," he says. "We are still working on them but you will see them within the next 60 days…. Since I only took over complete ownership at the end of June, we are still in the process of hiring a new general manager and making changes for the better."
In addition to a new management team, Movahedi says those changes include renovations to the bar. Despite the planned changes, some things will stay the same.
Says Movahedi: "There is never going to be a cover at Halo."