The Chemical Brothers hit it big a decade ago, with the duo's monster balls-to-the-wall hit "Block Rockin' Beats." Since then, the Brothers have released a new album every couple years, scoring some attention and radio and club play. And in fact, the band only won two of its three Grammys last year, for 2005's Push the Button and its infectious lead single, "Galvanize," the soundtrack to the Budweiser Select commercial that nearly made the block rock all over again. "Don't hold back," indeed.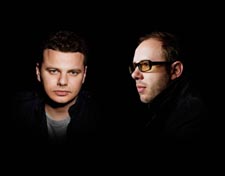 The Chemical Brothers
Still, it would be no surprise if you didn't realize that was the Chemical Brothers. Or if you had no idea the duo was still together. And if you couldn't care less. While always aiming for a fusion of dance and rock, The Chemical Brothers seemed like overcompensating straight scenesters more focused on inspiring those about to rock than those ready to dance — no different from their big-beat contemporaries the Prodigy, Fatboy Slim or the Crystal Method. Their aggressive, assaulting, angular sound doesn't encourage much communal conviviality and friskiness of the sort that makes gay clubs tick.
But times and people change. The gay music scene has gradually warmed up to rock music that draws heat from dance energy and passion. But even more, the Brothers Tom Rowlands and Ed Simons have collectively mellowed a bit, adopting warmer, friendlier, funnier textures. We Are The Night is a surprisingly strong, musically diverse set of dance-pop and even progressive house as well as the band's trademark techno and dance-rock. It keeps you entertained for a solid hour, with several tracks that make you smile, even laugh, and even more tracks that make you want to groove — with or without flirting strangers nearby.
First single "Do It Again" has them doing the block rock thing yet again. It's a track pulsing with energy that seems destined to become one of this summer's biggest dance hits. London newcomer Ali Love sings in a sweet, sensitive croon as he worries about taking hedonism too far. "Oh my god what have I done/All I wanted was a little fun/Got a brain like bubble-gum/Blowing up my cranium." But after every measure, a deep, dominant voice counters his concern by uttering the song's title.
Digitalism
Idealism
Astralwerks

A mixed message, perhaps — but then little in life is ever cut and dry, and that's especially true when it comes to nightlife. Throughout We Are The Night the Chemical Brothers express both their love and their concern with what drives people, especially after sunset. The blistering title track is an all-systems-go track that only pauses once, never shifting gears even as the terrain — the mood — does, constantly shifting back and forth between sweet and soothing to oppressive and threatening. It's not the only track that seems inspired as much by a night out at the club as by playing action-packed video games. Some of the tracks will surely be licensed for just that purpose, as previous Brothers' tracks have. Yet another track may inspire its own dance. But even if not, "The Salmon Dance" will make you laugh as you hear about Sammy the Salmon and his upstream-swimming brothers.
As fun and funny as We Are The Night gets, it's the concern that the duo expresses on several occasions that strikes you. Album closer "The Pills Won't Help You Know" is an affecting downtempo tale showing wearying concern for modern life. "You're probably poisoning your body, I hope you're alright." Tim Smith of Texas indie band Midlake sings with so much sweet sincerity, you can't help but worry and hope the person in question is alright too. This is not the sentiment or the type of song you'd ever expect from the Chemical Brothers. But here it is, closing out the duo's sixth album in such a way that you can't help but wonder what the two will do next. And for a change, you can't wait.
Advertisement

| | | |
| --- | --- | --- |
| The Chemical Brothers: We Are the Night | LCD Soundsystem: Sound of Silver | Digitalism: Idealism |
Digitalism
Idealism
Astralwerks

Digitalism is a new duo also in the dance-rock genre, though compared to the Chemical Brothers the sound is softer, more playful and far more focused on dance than rock. You wouldn't know the band is German — Digitalism's debut Idealism, at first listen, is pure Daft Punk and French electro. But the more you listen, the more you pick up a less-earnest New Order influence, from the title track to especially the dazzling bass guitar work on "Pogo." The band is being touted by its label as "the new electro-punk pioneers," in the vein of the Gossip, the Klaxons, even Franz Ferdinand. There's certainly not much resemblance to those bands. Even with its sharp edges, this seems too sweet and charming to be considered any kind of punk.
But for a few stilted numbers, including an embarrassing stab at hip hop ("Homezone"), Idealism shows Digitalism isn't just the one-trick dance pony you might have expected after hearing its ubiquitous hit a couple years ago, "Zdarlight," pronounced Starlight. That track incorporated a mid-tempo, multi-layered sweet melody into a minimal and blippy sound bed to find appeal across several dance sub-genres. Digitalism's Ismail Tuefekci and Jens Moelle never quite match the fusion of that instrumental track, but the two do come close a couple times, including on "The Pulse," a club-banger with a captivating shimmering synthesizer chord pattern that completely undulates as it reaches song's end. It's a wave you'll want to ride again and again.
Found on YouTube

The Chemical Brothers: Do It Again