"Remember when I was so strange and likeable?" "Remember when I was sweet and unexplainable?"
Actually, identical twins Tegan and Sara Quinn are still so strange and likeable, still sweet and unexplainable eight years into their recording career as Tegan & Sara. The song "Back In Your Head," from the lesbian sister act's just-released new album The Con (



), captures the struggles of any relationship as it ages, as the novelty either wears thin or fades out.
Despite the new album's slight change in sound, courtesy of production work from Death Cab for Cutie's Chris Walla, Tegan & Sara are still functioning as they ever did. These New Wave and folk-inspired rockers still run on cute, from looks to hooks. They still pile on the charm in every track they write, from the generally short track length to the lyrics to the way they play with their vocals and other harmonic elements. These 26-year-old Canadians still tell tales about their music and their history — in liner and press notes, on the Web and especially in concert — in a slightly shy, amusingly self-deprecating manner that's both honest and arch.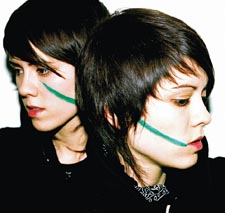 Tegan and Sara
It's playful. It's cute.
Unfortunately, though, that novelty seems to be wearing thin, five albums later. Was it really just one album ago that the two created the little pop masterpiece, So Jealous? Perhaps it's because with Walla they've scaled back production to put more emphasis on their voices and their lyrics, but the Quinns' voices have never sounded whinier and tinnier. They've never seemed more depressed and bored. It must be because of Walla's work. For their last two sets, Tegan & Sara worked with one member of the brilliant New Pornographers, the fellow Canadian band that puts the melodies — including strong counter-melodies — front and center in its quirky pop productions. Death Cab for Cutie, on the other hand, tends to focus on the harmonies and the often quiet, always reflective spaces in between.
And that's what strikes you about The Con. The melodies aren't as sticky as they should be. In fact, there's often very little melody or chorus to speak of. And so, even in the case of the album's best tracks, it's not the melodies you recall. On "Nineteen," it's the way Tegan repeatedly draws out and repeats the word "bye" in the chorus that you notice, like a 19-year-old brat. You don't really notice the chorus itself, what little there is of it. "And now we're saying bye, bye-ye bye-ye/I was 19, call me." You also notice the production: This is glorious, ribald rock that rivals Interpol and the best among neo-New Wave acts, with lively drums (from Death Cab's Jason McGerr), bass and especially guitar, and a ebb-and-flow texture that keeps you guessing.
Advertisement

Garbage: Absolute Garbage

Suzanne Vega: Beauty and Crime

//


On "Are You Ten Years Ago," there's no strong melody to get lodged in your head, and the only hooks are Sara's sweet and slight backing vocals swirling around Tegan, who sings the key lyrics in a cute, vaguely British manner. In the humorous press notes about this track, Sara says, "At first I thought Tegan sounded too British. And I wondered if it was cheesy. So I immediately started singing backups with my hands over my mouth so it would sound like a song from The Lost Boys soundtrack." She's not exactly joking: With its digital drum programming and digitally enhanced, echoed vocals, that's precisely the effect. Vaguely threatening, but in the most delightful way.
Tegan & Sara often write dour and dark lyrics, but until now the full-force of them has been disguised by the charm offensive from the duo and especially the production. "Knife Going In" is about a bad dream Sara had after her grandmother died. It's not about suicide. But the lugubrious production makes you think about it anyway. It's reminiscent of more recent output from Walla's Death Cab for Cutie, a band that, as it has aged, has increasingly emphasized the first word in its name and downplayed the last, to an early fan's dismay.
"I feel the knife going in, I'm feeling anxious/Not enough to kill me, I thought it'd happen fast," Sara sings through her patented whine that only deadens the mood. Cute it ain't.