When folk-rock singer-songwriter Eric Himan first started performing at gay clubs six years ago, people thought it was an act. "You know how strippers dress up like firemen?" he says. "They treated me like I just dressed up as a singer-songwriter and the guitar was a prop, and they'd be like, 'Take it off."'
For the record, he never takes it off.
"I'm not that kind of performer."
But now people are getting used to the sight and sound of a gay male folk-rocker, through Himan's constant touring and frequent exposure. And he's finding company onstage. Next Wednesday, July 18, he performs at Sully's U Street Tavern at a special showcase of gay male acoustic musicians.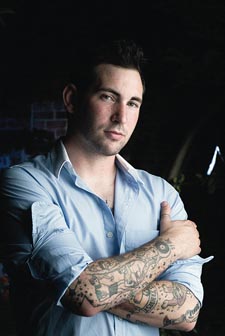 Eric Himan
"I'm really excited about it because usually you see that kind of camaraderie within the lesbian singer-songwriter community," Himan says. "It's really cool to see that with out guys who are also playing acoustic guitar, but very high-energy and upbeat kind of stuff."
D.C.-based Tom Goss organized the showcase. In addition to Himan and himself, Goss has lined up Jon Bozeman, who, like Goss, performed at this year's Capital Pride Festival.
"I'm very excited about this," Goss says. "I want to show that there are some very talented gay male singer-songwriters in the community who are trying to make a positive change and add to the community's musical diversity."
"OUT With It: A Night of Out Guys with Guitars" happens on Wednesday, July 18, at 8 p.m., at Solly's U Street Tavern, 1942 11th St. NW. Tickets are $5. Visit www.myspace.com/acousticdistrict.