Don't ask the girls in Lez Zeppelin if they're lesbians — they won't dish.
"Keeping a little bit of mystery to a group is very old fashioned, but in my opinion, it's much more intriguing. And besides, it's really about the music," says Steph Paynes, the lead guitarist of the all-female Led Zeppelin tribute band.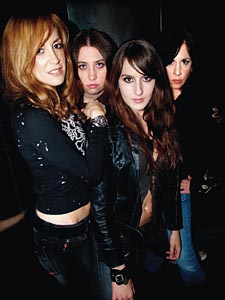 Lez Zeppelin
While the four women that comprise the New York City-based tribute band won't divulge details about their personal lives, they do plan to rock out a two-hour-plus set of classic Led Zeppelin this Saturday, July 14, at the State Theatre in Falls Church.
"It's like being in another world and none of us are really thinking about anything," Paynes says of performing. "I almost go into a trance-like state and I'm completely involved in the moment."
That sort of explains how the band originally formed in 2003. Paynes says there was never an intention to become a tribute band, but it was "purely an act of love" for the hard-rock harbingers.
"It was purely, 'Hey this is the greatest rock band, and the greatest music in the world, I can't think of anything more fun to do than this, let's do it,"' she says.
In addition to Paynes, Lez Zeppelin includes lead singer Sarah McLellan; Helen Destroy on drums; and Lisa Brigantino on bass, mandolin and keyboards.
Paynes says audience members can expect an intense, powerful and sexy experience — one that focuses on the music of Led Zeppelin and veers away from politics. At least, as far as they're able.
"I think being four women, playing this music the way we do, and going out there and stunning people who don't believe we can play it — that's a political act in and of itself."
Lez Zeppelin performs Saturday, July 14, at 9 p.m. at the State Theatre, 220 N. Washington, Falls Church. Doors open at 7 p.m. Tickets $16. Call 703-237-0300 or visit www.thestatetheatre.com.