When sporting have a buzz cut, what need do you have for Hairspray? So I missed both John Waters' 1988 original movie starring Ricki Lake and Harvey Fierstein's Tony-winning performance in the 2002 musical stage version, meaning I had no expectations whatsoever from director Adam Shankman's film based on the musical. In fact, if not for some silly boycott attempts, I would have had little interest in seeing the film at all.
That would have been tragic, because big hair and big girls equals big fun. Damn the ozone — bring on the Hairspray!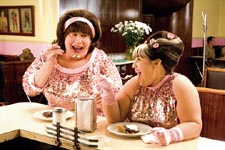 Travolta and Blonsky in the movie musical 'Hairspray'
Hairspray tackles racial segregation in Baltimore during the summer of '62 with a flip, a tease, and a song. Tracy Turnblad (Nikki Blonsky) has all the right moves, rhythm in her big bones, and curves that don't quit. Using her mirth, and in spite of her girth, Tracy lands a spot on Baltimore's hottest teen-dance show bringing her face to face with unattainable heartthrob Link (Zac Efron).
With her lovable parents, Edna (John Travolta) and Wilbur (Christopher Walken) holding her high, and Velma Von Tussle (Michelle Pfeiffer) trying to trip her with every step, Tracy sings and dances her way towards racial equality and love. Executed with joyous abandon, Hairspray is a Technicolor social statement and a damn good time.
Now to the big Hairspray question — how good is Travolta as Edna Turnblad? When Edna first waddles on screen, it takes a minute to find Travolta under all that fat. When Wilbur first leans in to give Edna a kiss on the cheek, sophomoric laughter abounds. After Edna and Walter finish their big romantic number, applause fills the theater. Now that's movie magic. Travolta may not have the prettiest voice, but his heart and soul are in this role. In the end, he's just one of the girls.
Despite all the headlining actors that crowd Hairspray, the true star shining bright is newcomer Blonsky, who fills Tracy with such enthusiasm, pep, heart, and harmonious rhythm, she's a ray of sunshine illuminating the screen. With a beautiful voice and moves that could incite a riot, Blonsky should be destined for great things.
HAIRSPRAY

Rated PG
107 Minutes
Hairspray brings the fun and excitement of musical theater to the silver screen with stunning results. While Rent failed to capture the grit of bohemian life in New York, and Evita was sunk by disastrous performances from Madonna and Antonio Banderas, Hairspray's catchy songs and dizzying choreography explode from the screen, threatening to spill out onto the sidewalk. Like Edna's dress, the film just isn't big enough to hold everything in. Boycott away, because that means the line will be shorter this weekend when I go back, so that Blonsky's stunning "Good Morning Baltimore" can once more make me wish I actually lived there.
---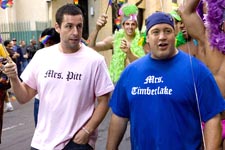 Sandler and James in 'Chuck and Larry'
"I feel like I'm trapped in some gay, crazy nightmare!" Uncanny. It's like Chuck (Adam Sandler) can read my mind, because I was just thinking the same thing. Chuck, however, is bemoaning the crazy predicament that befalls all straight men who pretend to be gay in order to get some of those special legal rights the gays have. I, on the other hand, am wondering when this infernal, 115-minute hate crime of a movie is going to end.
I Now Pronounce You Chuck and Larry has the dubious distinction of needing to tout a seal of approval from the Gay & Lesbian Alliance Against Defamation (GLAAD) before opening. I don't see why they feel the need to do that. It's only a story about two Brooklyn firemen, Chuck and Larry (Kevin James), who enter a domestic partnership in order to protect their pensions. What's the worst that can happen? Some tired, recycled jokes about dropping the soap and who wears the dress at the wedding, and maybe throw in a really awkward kiss for good measure. If only. Chuck and Larry is the lowest of the low in terms of humor (gay or straight), gay references (because not all gay men buy elbow grease by the tub), and cameos (Lance Bass, be ashamed).
I NOW PRONOUNCE YOU CHUCK AND LARRY

Rated PG-13
115 Minutes
Opening Friday at Area Theaters
To put it succinctly, the plot is contrived and stretched tighter than Joan Rivers' face; the acting is laughable but the jokes aren't; the "positive" messages are more timely to 1977 than 2007; and if the concept seems offensive then the movie is downright insulting.
If moral conclusions like, "saying faggot is bad," and "raising money for AIDS is still important," are being lauded as stimulating public debate and worthy of praise from GLBT leaders, then I have plenty of time left to find a husband. Because if that's the best we can do in 2007, I'm not going to count on huge advances in equality any time soon. Maybe we should go back to singing and dancing — it worked in Hairspray.