SECOND CHANCE TO D-D-D-DANCE… Junior Senior is coming back-back jack-jack! Yes, we're talking those same silly, stuttering Scandinavians who four years ago made "everybody feel united" with dance-pop hits "Move Your Feet" and "Shake Your Coconuts," and a delightful, delirious debut album, D-D-D-Don't Stop the Beat. The daffy Danish duo of straight Jesper "Junior" Mortensen and gay Jeppe "Senior" Laursen were away for so long only because the duo's original U.S. label Atlantic actually stopped the beat. Such spoilsports. So the duo's sophomore set Hey Hey My My Yo Yo was released in 2005 in many other countries, except here. It took two additional years, but the smaller Warner Music label Rykodisc is finally set to revive the party. Rykodisc will release the album August 14. But wait, there's more: The label will also release a companion seven-song EP with the album.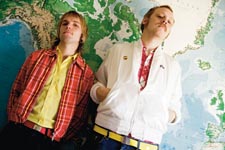 Junior Senior
"We wanted to dance this summer, so we went into the studio," Senior says in a press release about the EP, titled Say Hello, Wave Goodbye. And the boys whipped it out fast, too. "Four days. Wham-bam! I hope people will want to dance to it too!" Oh, don't worry, Senior, we do. Now we can also dance to the second full-length, which includes tracks such as the '80s rap-influenced "Hip Hop a Lula," "Take My Time," featuring the unmistakable harmonies of the B-52's' Cindy Wilson and Kate Pierson, and "Itch U Can't Skratch," which LOGO is using in promotions. Also on the album: first single "Can I Get Get Get," featured in a recent episode of "Ugly Betty." JD Samson of dance-punk trio Le Tigre and of the Le Tigre DJ-duo offshoot MEN joins to rap with Senior. "Can I get-get-get to know, no-no-know you better-better baby."
Dates will be announced "soon" for a U.S. fall tour to support the album, but they're hitting a few clubs next month, including Manhattan's Highline Ballroom on album release's eve. If you can make it there, by all means, go! They're even more fun live than you could ever imagine….
BASEMENT'S BACK… Yet another party-pop dance duo knows what it's like to deal with American record label spoil sports. About the same time Atlantic stopped Junior Senior's beat, Astralwerks wished "Good Luck" and good riddance to Basement Jaxx, dropping them just as the British duo, the best in the biz, won the inaugural Grammy for Best Electronic/Dance Album for 2003's Kish Kash. To paraphrase the Jaxx, where was their head at? But XL Recordings tuned us into last year's brilliant Crazy Itch Radio, and now comes word that Simon Ratcliffe and Felix Burton are already readying the duo's sixth album. As we reported last month, they've also worked on a track for Cyndi Lauper's forthcoming dance album. Billboard reports that early tracks recorded for the new Jaxx album recall the pair's early Latin-flavored jams. (Think "Red Alert," "Jump N' Shout," "Bingo Bango" and other gems from the 1999 debut Remedy.) Guests this time around reportedly include Yoko Ono and early house-music hitmaker Lil' Louis….
Advertisement

| | | |
| --- | --- | --- |
| Junior Senior: Hey Hey My My Yo Yo | Basement Jaxx: Crazy Itch Radio | Pet Shop Boys: Cubism In Concert (DVD) |
MARIAH VS. JANET, ROUND TWO… You know how Mariah Carey, after a series of commercial and critical flubs, managed to bounce back and make an unprecedented comeback in 2005? And you know how Janet Jackson, after a series of commercial and critical flubs, managed to flounce on and make an unprecedented flop in 2006? Well, hip-hop producer Jermaine Dupri is the connecting thread to both developments. And now, Dupri is set to repeat things all over again with new albums from both artists, both tentatively scheduled for release later this year. Dupri told Billboard that longtime producer and record executive L.A. Reid will produce Jackson's new album while he does the deed with Carey. "I'm going to do Mariah, and we're going to make it seem like we're in competition to see who's going to have the biggest album of the year."
Uh-oh. Not only does that sound incredibly unromantic — all signs are that Dupri and Jackson are still very much a couple. At first blush, it also sounds incredibly unhelpful for Miss Jackson. Dupri, you see, hasn't helped our one-time favorite "Nasty" girl. In fact, ever since the two got together, he's only hurt her career, first with 2003's middling Damito Jo, then with last year's maddening 20 Y.O. And 20 Y.O., we stress to point out, was intended to be a comeback for Jackson on par (hell, even half-under par) with Carey's The Emancipation of Mimi. He royally failed that challenge, both critically and commercially, resulting in both his and Jackson's eventual departure from Virgin. They're now both at Island Urban, with Dupri the executive in charge.
But despite all that, chances are this really could be the boost needed for Jackson's once-storied, now-suffering career. Reid, after all, actually guided Carey's comeback as head of the Island Def Jam family of labels. And in that capacity, Reid oversees not only Jackson, but also Dupri. (Also: Def Jam's Jay-Z, and his "Umbrella" Rihanna, our new favorite "bad" girl.) Plus, Dupri added this to Billboard: "Janet's record is one that [Reid's] wanted to do for a long time. He's very passionate about it." No word on how Jackson's album is shaping up, or if this means the end of her longstanding relationship with Jimmy Jam and Terry Lewis. But Dupri is effectively out of the picture professionally. And that's nothing but good news….
From YouTube

Junior Senior: Take My Time