"I remember being [pegged] as a dyke or a bitch for liking loud, aggressive music," says Lucas Silveira, about his days as a teenage metal head. But Silveira was neither a dyke nor a bitch, so he overcompensated, turning to softer folk music. "I wanted people to like me for being a girl, because I was so scared of who I really was."
Now Silveira, a female-to-male transgender, wants people to like him for the band he fronts, The Cliks, a hard-charging rock quartet that's quickly getting noticed. The all-queer group's debut album Snakehouse is fierce, ferocious and fun, and includes a ballsy cover of Justin Timberlake's "Cry Me a River." The band's video "Oh Yeah" has clicked with viewers of LOGO, where it's in constant rotation.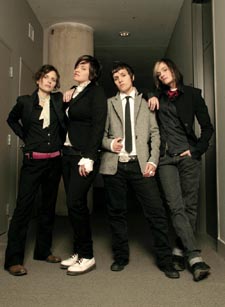 The Cliks
And the band, who will perform at Jammin' Java this Friday, July 27, wowed during last month's True Colors Tour. Originally scheduled for just five stops, the Toronto-based troupe was asked to finish out the trek. (A conflict kept them away from Merriweather Post Pavilion.)
The band got together a couple years ago, after Silveira had a dream that set in motion recognition of his transgendered identity and his name change. "There was an old friend of mine who was trans and he was in my dream, wearing my clothes," Silveira recalls. "Something about that image just made me start thinking."
The band's name is itself transgendered. An ex-girlfriend of Silveira's suggested calling the band The Clits. "I was like, 'I don't think so!"' Silveira laughs. "But it just kind of stuck in my head, and The Cliks became a combination of that part and a boy part." Silveira has had a double mastectomy, but has no plans to take hormones. Doing so would threaten his voice and his career.
Just don't call him a "tranny poster boy."
"We're all so different, you know?" he says. "I think that if I'm going to be the poster boy for anything, it's for just being yourself. That's so important in this world."
The Cliks perform this Friday, July 27, at Jammin' Java, 227 Maple Ave. in Vienna. Showtime is 8:30 p.m. Tickets are $12. Call 703-255-1566 or visit www.jamminjava.com.