Although the District has, effectively, erased nude-male dancing venues off the city's nightlife map in favor of a baseball stadium, adult entertainment of a female sort still thrives in the nation's capital. This is especially true in Ward 2, where Archibald's touts more than 50 dancers on K Street NW and Camelot claims more than 30 on M Street NW, along with a smattering of other "gentleman's clubs."
So as this handful of displaced venues catering to gay gentlemen attempts to find new homes, encountering both obstruction and pledged support from varying city leaders, it may be no surprise that openly gay Councilmember Jim Graham (D-Ward 1) — seemingly the club owners' strongest legislative ally, though by no means omnipotent in his efforts on their behalf — suggested last week that these male dancers might have a possible home with their there bare-breasted peers downtown.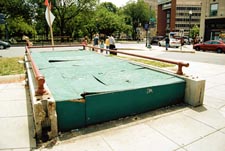 A boarded up entrance to the abandoned 'Dupont Down Under' space
Or, rather, "down under."
WTOP reporter Mark Segraves was present the morning of July 10 when Graham floated the idea of housing one or two of these displaced clubs — a group that includes the former Secrets, Wet and Heat — in the Dupont Down Under space, derelict for years after a brief stint as a food court in the 1990s. While the space is subject to litigation, it is arguably fully in the hands of the District government today.
"I sit on breakfast City Council meetings," explains Segraves, who first reported Graham's suggestion on WTOP July 11. "Last Tuesday, I was watching the meeting and Graham came in and floated out this idea to relocate one or two of the clubs. [Councilmember] Jack Evans (D-Ward 2) loved the idea, and I did include that in my piece. [Councilmember David] Catania (I-At large) was intrigued as well."
Graham says the idea was suggested to him, adding he cannot recall by whom. Certainly, the idea is not new, with mention of using the sealed-off space, originally built as an underground streetcar station in the 1940s, popping up in arenas such as the DCist Web site in early 2006.
"It was just one of those summer ideas," Graham said Monday. "It escapes all of the proximity rules [restricting adult venues/liquor licenses]. It's well over 600 feet from anything. It's very central. … It could very well be prosperous for the businesses and make use of land that has a puzzling situation. I don't think anyone is clear what to do with this property."
A request for comment from Evans, in whose ward Dupont Down Under sits, was not answered by Metro Weekly deadline, though the July 14 issue of the Washington Times quotes him saying, "It would depend entirely on the constituents as to whether they would support that concept or not."
Advisory Neighbor Commission (ANC) 2B02 Commissioner William Hewitt, whose territory includes Dupont Circle, says he wants to confer with his constituents and fellow commissioners before offering official comment. But if the Ward 5 reaction to having clubs in that part of the city is any indication, this would be an uphill battle.
"The only way it would work as a proposal is if these businesses were granted a special exception to move into this location [and] if the 'voluntary agreements' would not be a factor in the relocations," says gay nightlife promoter Mark Lee, referring to the de facto requirement that local ANCs sign-off on businesses with liquor licenses before they'll gain approval from the city's Alcoholic Beverage Control Board. Such "voluntary agreements" usually include a list of concessions beyond what the law requires, such as limits on operating hours, noise levels and parking.
A local commercial real-estate agent, Jesse Kaye, though relatively new to the business, has had his eye on the Dupont Down Under space, blogging about it on his site, For the Love of Growth (DC That Is).
"I've been educating myself as to what it would take to open it up again," says Kaye, who is straight. "It would take the right politics to get it open again, rather than money or will. … Dupont Down Under literally has six different committees, each of which has its own needs, own politics, about opening it up again. You're going to have to convince each one of them."
Kaye says he's using the term "committee" loosely, lumping together everyone who may have grounds to represent the space, including the National Park Service, which controls the street-level Dupont Circle; ANC 2B; the Dupont Circle Citizens Association; and so on.
"[An adult-entertainment venue] might be quite lucrative, but it probably wouldn't go over," he guesses, again pointing to the monumental bureaucratic and community synergy likely needed to pull off such an effort. Given the number of red flags such a project would raise for interested parties, Kaye says, "The best way to do this is going straight to the mayor and doing a top-down approach, rather than bottom-up."
Meanwhile, the only displaced venue to reopen — only to be shut down again by the city's Department of Consumer & Regulatory Affairs due to a licensing issue — was 2120 in Northeast's Ward 5. 2120 was formerly Glorious Health & Amusements, an adult business in Southeast, but not one serving alcohol. It's owner, ANC 6D07 Commissioner Bob Siegel, who was also landlord to some of the displaced, liquor-licensed venues, says he's intrigued enough to want a tour to examine the condition of the derelict Dupont Down Under.
"I've never seen that underground area. I don't know about the health conditions," he says. "I know it's 100 percent District-owned property, so tenants would probably be paying top rent. I'm still looking for a place to put my adult videos and magazines. If the rent is cheap, good. But I don't think it's cheap."
Beyond rent, Siegel also concedes that it's resident protests — like the ones that contributed to the closure of 2120 — that are the greatest concern for the gay-male, adult businesses in the District: "Above ground, we can't win. Below ground, people still complain."
Case in point is Gil Hill of the Historic Dupont Circle Main Streets and the Dupont Circle Conservancy. He tells the Washington Times, which has been following the relocation story, including an editorial blasting previous plans of said venues to relocate near New York Avenue NE, "It is an appalling idea to assume that you could have adult nightlife underneath a national park. We'll do everything we can to prevent it. I think the community is absolutely opposed to it."
Even Graham, despite giving the Dupont Down Under adult-venue proposal its highest profile yet, concedes that when it comes to D.C. residents' toes, it's best to tread lightly.
"There is a lot to be heard from on this idea," he stresses. "But I'll let others speak about the neighborhood, because it's not my neighborhood."