It was not a technical error.
Washington's Gay and Lesbian Liaison Unit's volunteer-operated Web site, www.gllu.org, was intentionally taken down for three days last week. Instead of the site's familiar template and menu bar, an open letter to the community from D.C. Police Chief Cathy Lanier, appeared on the page, summarizing her vision to expand all of Metropolitan Police Department's liaison units, including the GLLU. Lanier's letter preceded contact information for Sgt. Brett Parson, who had previously headed the unit and is now working with Lanier on her new plan.
The Web page closed with a letter from Sterling Spangler, the unit's volunteer services coordinator, who has maintained the GLLU site, which featured the unit's history, staff directory, photographs and other information, since the unit's inception in 2000.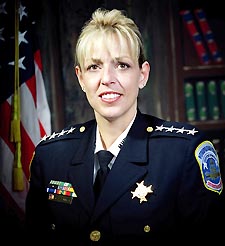 Lanier
"I looked at it [and] it was so out of date," Spangler says of his decision to shut down the site. "I don't like leaving up dead Web sites. I decided because [Lanier] had put out a release, that I would put that up."
Spangler, who works as a freelance multi-media designer, and is also the president of the D.C. chapter of Concerns of Police Survivors (DC-COPS), signed off as the "former" volunteer services coordinator. "At that point," he says, "I personally could not… handle the internal drama of any organization regardless of whether it's MPD or anything else."
It wasn't long after the site shut down that Spangler received e-mail inquires from people wondering if Lanier was in any way responsible for the site closing.
"I made it clear, absolutely not," he says. "It was just the fact that I decided it was out of date."
Like most of the volunteer-based outreach conducted by the GLLU, Spangler points out that the gllu.org page is not a part of the official MPD site.
"We got the domain name ourselves, it's paid for not by the [police department]," he says. "A lot of the outreach stuff that was done came out of our own pockets."
While Lanier had spoken publicly about her vision and how it involved the GLLU's officers, she hadn't addressed the many volunteers who have worked out of the unit, until the GLLU's staff meeting on Wednesday, June 27.
Lanier made a surprise appearance.
"She basically told us what she's told everyone," Spangler says. "She's made a rookie mistake and she apologized for not communicating better."
And on Thursday, June 28, everything fell back into place. Including the unit's gllu.org Web site, which was back online.
"I realize that taking down the Web site was probably a mistake because if we're sitting here talking about communication and needing to improve communication I need to put it back up," Spangler says, adding that the entire Web page needs to be "revamped," in the coming weeks to reflect the GLLU's current state.
Once back up, the Web page featured a new open letter from the chief, clarifying her vision and the role she is hoping the GLLU will take.
"In the past few weeks, there has been a great deal of confusion regarding my vision for the Gay and Lesbian Liaison Unit," Lanier says in the letter. "It has never been my intention to disband the award-winning unit, and in fact I have set a goal for my Department to train every Metropolitan Police Officer to respond to calls from the GLBT community and to encourage more officers to join GLLU."
Lanier also announced that she, alongside Parson and Lt. Alberto Jova, head of the GLLU, plans to meet with community members in all seven police districts to discuss the unit's future. She asked those who are unable to attend the meetings to e-mail suggestions and/or concerns to mpdc.liaisonunits@dc.gov.
"We are now going to conduct community outreach, throughout the District, because the chief wants input on what they need and what they want in terms of delivery of services by GLLU," Jova says.
Jova says Lanier's appearance at the GLLU meeting was productive and that she cleared up any confusion or misconceptions about the unit's volunteers and their services.
"They're going to stay here," Jova says.
One of those volunteers is Buck Jeppson, a 59-year-old resident of Adams Morgan, who came on board as an auxiliary member of the MPD and began volunteering for the GLLU in 2004, with his partner of 10 years, Michael Kessler, 50. Jeppson says, despite some uncertainty that surfaced when word of Lanier's vision to expand the unit first began to spread a few weeks ago, things are clear now.
"I'll be continuing to help," he says, noting that Lanier said she is hoping to increase the number of the unit's volunteers, who will continue to work out of the GLLU's Dupont Circle office.
"The way I see it… they really do need the cops out on the streets," Jeppson adds, "and we'll be doing more outreach work."