Damn, another dropped call: Damon
Jason Bourne is back — and this time he's meaner, leaner and cheesier than ever before.
The third, and potentially final, installment in the franchise, The Bourne Ultimatum begins long before the second, The Bourne Supremacy, even ends. As the third film in all trilogies must do (according to the Scream trilogy rules of cinema), Ultimatum takes what has been established in the previous films and turns it on its head. The final scene in Supremcy is actually a pivotal plot development in Ultimatum that leads to the climax. This "a-ha" moment is one of many, cushioned between crash-and-smash action scenes, but in an effort to best its successors, Ultimatum goes soaring over the top.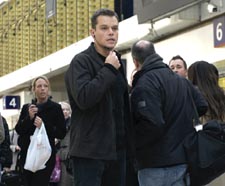 Damn, another dropped call: Damon
Jason Bourne (Matt Damon) is a human experiment — a killing machine designed to have no conscience, no memory, and no will to disobey. Trying to salvage his soul, Bourne continues his mission to ferret out the truth behind his past and find who created him. Aided by little more than flashes of memory, Bourne traverses the globe like a contestant on The Amazing Race, stopping in Russia, Spain, Morocco and eventually the States. Initially slowed by back story and groundwork, once Bourne has a direction and someone chasing him, he — and the action — doesn't stop.
Hot on Bourne's tail (can you blame her?) is Supremacy's nemesis Pamela Landy (Joan Allen), whose appreciation for Bourne's abilities are now tinged with respect and, dare I say, affection. Also back for more is Nicky Parsons (Julia Stiles), whose presence stretches the plot's credibility, but even CIA agent Noah Vosen (David Strathairn) says, "You can't make this stuff up."
Vosen is Bourne's enemy this time around, running a hyper-Treadstone project (the governmental program which created Bourne) called Blackbriar, which sends new Bourne 2.0 agents after their prototype. With authority to shoot-to-kill and free from bureaucratic red tape, Blackbriar is the Dick Cheney method of law enforcement.
As far as action movie plots go, Ultimatum is really smart when it needs to be and really stupid when it's convenient. Fortunately, it's easy to differentiate between the two: the smart are on Bourne's side and the stupid are government officials and civilians, excluding the aforementioned.
Damon continues to do a fine job as the lethal killer with a heart of gold. He does his best to humanize Bourne and is given plenty of opportunity to show the softer side of the assassin. It's Bourne's inhuman physical feats — and amazing ability to survive car crashes with little more than a scratch — that truly make him seem inhuman. Now on the "good" side, Stiles is able to give Nicky a little depth of character but still isn't expected to provide much more than a two-dimensional performance. However, tender and caring is better than her crying jag in Supremacy and therefore a vast improvement. Though Nicky insinuates that a forgotten history exists between the two fugitives, it is a plot point left dangling so expect her to return should a fourth movie be made.
Allen and Strathairn exist primarily in a high-tech ops room, similar to the set of television's 24. Sadly, they aren't given dialogue that is even on par with 24's scripts. Directing the hunt for Bourne from halfway around the world, the two have only each other to battle and what should be biting and vicious exchanges end up being wimpy and whiny. You can almost see them cringe after some of their more clichéd lines.
THE BOURNE ULTIMATUM

Starring Matt Damon, Joan Allen, David Strathairn, Julia Stiles
Rated PG-13
111 Minutes
Area theaters
Ultimatum's biggest downfall is the cinematography. Director Paul Greengrass and cinematographer Oliver Wood worked under the misconception that if a few hand-held camera shots were a good thing, than a lot of them would be even better. Wrong. Needing a side of Dramamine with your popcorn is rarely a good thing. For someone who made it through the jumpy Blair Witch Project and the gory Hostel II without a problem, Ultimatum pushed my regurgitation limits. Greengrass created fight sequences and chase scenes that are amazingly choreographed and executed, but even the best direction is lost when you have to close your eyes to keep down your Jujubees.
As a third Bourne movie, Ultimatum falters a little in its effort to keep the story fresh, but does not disappoint. However, it feels as if the shark is in sight and a fourth movie may have to jump it in order to get made. Here's hoping that Jason Bourne decides to call it a day instead of climbing on that surfboard.
From YouTube

"Bourne Ultimatum"