The Homeland Security and Emergency Management Agency has reimbursed Whitman-Walker Clinic, the main organizer behind Washington's Capital Pride parade and street festival, more than $14,000 in fees paid for city police and security for the annual street festival.
"I'm very pleased," says Councilmember Phil Mendelson (D-At Large), chair of the Committee on Public Safety and the Judiciary, who encouraged the clinic to apply for the recently awarded waiver. "Whitman-Walker Clinic does important work and the money that they're saving is money they can use for important public health."
According to ReGina Newkirk, the clinic's director of development, organizers had applied for and received a waiver for an $18,000 fee for the June 9 parade. The clinic did not initially apply for a waiver for the June 10 Capital Pride festival on Pennsylvania Avenue NW by the Capitol because they were told the funds were limited. "We had various people who were very familiar with the city government and our likelihood of success," Newkirk says, adding that they were told the HSEMA funds were limited and that they chose to file for the parade since it is a community event and does not present a commercial aspect to it, the way Sunday's festival does.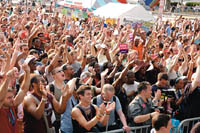 The 2007 Capital Pride street festival
When it was brought to Mendelson's attention that organizers of Capital Pride had paid for security at the festival, he recalled that organizers behind D.C.'s Eastern Market Day celebration had not, as the city had waived the cost of police protection for the event.
"There needs to be consistency and…a policy that everybody understands," Mendelson says. "Going into an event like the Pride festival and parade, the organizers should know whether they could have the fee waived and how they could go about doing that."
The Homeland Security and Emergency Management Agency is responsible for assessing security fees or waiving them. Mendelson says the police department creates the bill for an event, after it occurs, and the HSEMA, decides whether to waive it or not.
Somehow the process gets blurry, Mendelson adds, explaining that obscurity over whether a bill is cancelled or if there is a fund that is used to cover it, led to Capital Pride organizer's confusion on whether they could apply for the parade as well as the festival.
That is why he's calling on Mayor Adrian Fenty (D) to implement a policy that would establish a published rule that would explain how the process works, who is eligible to apply, and other specifics.
Mendelson says he will continue focusing on HSEMA.
"I will press them to perfect [a policy]," he adds.
According to Chip Lewis, media relations manager at Whitman-Walker, the clinic paid $41,000 for security fees in 2006 and were invoiced for $36,000 in 2007. While grateful that this year's fees have been waived, Lewis agrees with Mendelson in that a city-government policy should be implemented "for events that really bring a lot of economic benefit to the city."
"Considering that Pride is put on by the clinic and 13 other [not-for-profit] community partners, this is a financial burden that falls on all the community partners, so it would be nice to have that alleviated, and it's funding we could do other things with."
Newkirk echoed Lewis' sentiments.
"It may seem like a small amount of money," she says, "but it can be really significant to some of the smaller organizations in helping serve the [GLBT] community."
"We would certainly be encouraging for a city-wide policy for these types of events," she adds. "Especially for events that bring in a tremendous amount of revenue for the city; the city does really benefit, and so we would hope that the city would work with us. We would be supportive of such an action, but it's not something that we intend on initiating."