Six years ago, Bobby T would have laughed if you told him he'd one day be a DJ. At the time he didn't even like dance music. "I'd be out [at the clubs] listening to the music and my first thought was it all sounded the same," he says. "It was just one long song all night long."
But he quickly came around. "The more I listened, I started hearing how the songs were going in and out of each other. And it occurred to me it was a lot like what I studied in college," says the classical music major. "It's a lot like classical music. It's very formulaic.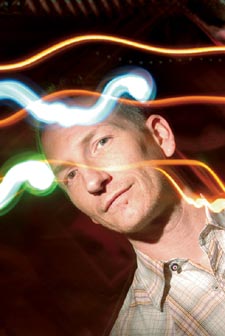 DJ Bobby T
"I started thinking, I could do this."
Soon enough, he was. He befriended local DJ stalwart Darryl Strickland, who helped him get his start, most notably at Wet, where he DJed for a couple years. Bobby T has since spun at various clubs, including Cobalt and Apex. He's now going on three years as a resident DJ at the Green Lantern.
"It's really nice here," the amiable DJ says of the Lantern. "I tend to get a good response."
Robert T. Boaz says he outgrew the childhood nickname of Bobby once he moved away from his native Arkansas. But soon after moving to D.C. a decade ago, his colleagues in the Gay Men's Chorus started calling him Bobby T. "I hated it," he recalls. "Absolutely hated it. But it stuck and I stopped fighting it."
The 36-year-old, who works by day at a patent retrieval service for attorneys, continues with the chorus, singing baritone and helping with arrangements. But DJing remains his chief passion and creative outlet.
At Green Lantern, Bobby T plays "as if there were a dance floor, even though there's nobody dancing." So he pays attention to how the shirtless masses — and on Saturdays, underwear-covered assess — are responding. His aim is to mix hard tribal beats and light vocals, but to keep things smooth and flowing.
He's happy that dance music seems to be circling back to a more vocal-focused sound. "I started out as a singer, so I like vocals. Always have, always will."
Bobby T spins on a rotating schedule at Green Lantern, 1335 Green Court NW. Visit www.greenlanterndc.com. Bobby T next scheduled spins are Thursday, Aug. 23 and Thursday, Sept. 6.