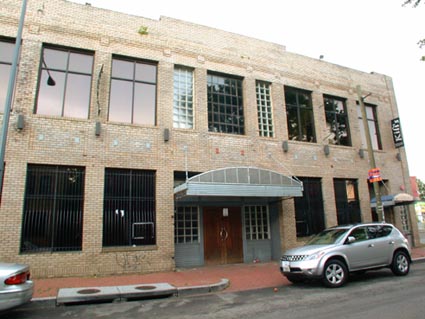 Exterior of new club, Town, at 8th St & Florida Ave/U Street
With nearly 20 years of experience under their belts, Ed Bailey and John Guggenmos could write a book detailing the dos and don'ts of launching and operating large-scale nightclubs in Washington. Instead, the masterminds behind a string of popular gay hotspots in D.C. during the past two decades, including Tracks, VelvetNation and Halo, are using what they know to create their greatest hit.
Introducing Town.
"We've done lounge-y, we've done crazy," says Bailey, in an exclusive interview with Metro Weekly. "And this is a really nice combination of [the] big-room experience and [a] very cool and calm experience all in one space."
While the exact opening date of Town, a two-story, 20,000-square-foot building at 2009 Eighth St. NW, hasn't been set, Bailey feels confident it will launch before the end of the year. Other details, including the club's 5 a.m. closing time on Fridays and Saturdays, and the fact that it will be primarily gay, are currently falling into place.
So, why is it called Town?
For one, explains Bailey, there's an infinite number of ways to promote the club. For example, the two floors will be designated as "Uptown" and "Downtown."
There's also a message behind the name.
"We didn't want to pick a name just for the sake of the word," offers Bailey. "Town is an effort to…convey a little bit more of a cosmopolitan feel, a little bit more of an urban sophistication."
Part of that sophistication will stem from Town's appearance, to be designed by Studios Architecture's Greg Keffer, well-known in the nightlife community for his work at Halo.
Guggenmos notes that Town will incorporate warmer elements into its design, including natural stone.
"You can have three different experiences there," he says. "You can have really kind of a chill experience. You can be in the main…energy of the big chaotic dance room. And then there's the one that's kind of in between, that's very lounge-y."
Bailey says Town will offer a more intimate environment than VelvetNation, while maintaining all the elements that spark the high level of energy at a dance space.
To help create that buzz, Guggenmos points out that, this time, the pair are spending a "great deal of money on the acoustical engineering of the main dance room," as well as lighting.
"You go to the Bang & Olufsen showroom and the speakers sound great. Then you put them in your home and they don't sound as good," he says. "That's partly because the acoustics of the room take over.
"We're spending a good deal of money…to really bring that acoustic experience into it. Because the bottom line is it's still about the sound."
Bailey and Guggenmos have already acquired the appropriate licenses required to operate and serve alcohol at Town, a process Bailey calls "flattering."
"In an age, where all you hear are all these negative things about how hard it is to get licenses and how complicated the process is," says Bailey, "it was flattering…to realize other people have recognized that you've done [prior] things in a way that seem to be the right way of doing them."
Don't expect that mentality to change with Town, Bailey says. In addition to forming relationships and lines of communications with neighbors where concerns may be addressed, Bailey says Town's interior design elements will also help dampen its noise from the neighborhood. That's a good thing considering Town's 5 a.m. closing time on Fridays and Saturdays, which Bailey says will once again provide that "full on nightclub experience" Washington is currently missing in the absence of VelvetNation.
"I think we're combining a lot of things that the city needs in one space, but not doing it in some kind of awkward way," he says. "We have enough room to do it, and we're taking our time to do it the right way."
Construction on the venue began in June. It used to hold Kili's Kafe and Lounge, which was ordered by bankruptcy Judge S. Martin Teel Jr. to leave the space in November 2005.
Guggenmos predicts that Town will be "phenomenal."
"I'm still a little anxious to see what everyone thinks of it, because that's the bottom line," he says.
Bailey adds that his and Guggenmos' long association with the city's nightlife scene has taught them a few tips.
"We've gone through a whole lot of different businesses and evolutions of how we've tried to create interesting entertainment and nightlife for the gay community," he says. "Town is a culmination of all those experiences."