It's a corny enough album title, but you'll certainly be laughing within seconds as Hey Hey My My Yo Yo opens. After two measures of handclaps, the gay Jeppe "Senior" Laursen and the straight Jesper "Junior" Mortensen invite you into their goofy world.
"Hello! Welcome to our new record. This is it! We're back. We're back on track for the big comeback."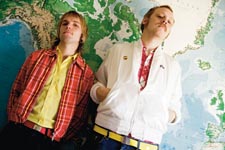 The boys are back: Junior Senior
It's a comeback nearly four years in the making. Hey Hey My My Yo Yo (



)was actually produced two years ago — two years after the daffy Danish duo's major-label debut, D-D-D-Don't Stop the Beat, had created a stir with a festive, old-school party-pop vibe and a few fun songs, most notably the shouted Michael Jackson-esque chorus of "Move Your Feet." Atlantic Records passed on releasing the comeback, so it remained in limbo until smaller Warner Music label Rykodisc signed on to release it a week ago.
The new album — and especially the New Wave-y EP Say Hello, Wave Goodbye released in conjunction as part of a limited-edition set — proves that the duo wasn't just a novelty act, one that makes a couple songs and then vanishes. The duo, in fact, may very well have a long and lustrous career making novelty songs. The novelty of the first album — zany, fun, self-referential and explicitly gay as well as straight — hasn't disappeared here.
But while the boys are in some spots even, well, stupider on the latest, the album is actually more noteworthy because of the music, which is warmer and richer, as well as smarter and more engaging. The newer album is especially inspired by the playful dawning days of rap, and by the deep textures of '60s-era rock and soul. At various points the boys are marvelously serenaded on backing vocals by former Motown girl group the Velvelettes. Other guests include the B-52's' Cindy Wilson and Kate Pierson and the women of Le Tigre.
Still, sometimes the music and often the lyrics are too bright and hyper-cheerful: the duo's shiny, happy vibe is a gimmick that's starting to grate. On "Itch U Can't Scratch," Johanna Fateman of Le Tigre guests to trade raps with the boys. "I got an itch, an itch I can't scratch/It's way d-d-down, d-down to back/I'm itching and scratching all night and day/got to find-find a way, to make it go away." The boys may be content to keep returning to the metaphor barrel until it runs dry of vaguely sexual expressions — and mixing them together with simplistic rhymes, about nothing serious — but it's getting a bit too cute.
Advertisement

| | | |
| --- | --- | --- |
| Junior Senior: Hey Hey My My Yo Yo | MIA: Kayla | Dame Shirley Bassey: Get This Party Started |
Speaking of too cute, the boys are beginning to overdo that, as well. Just like a baby's first utterances and sounds, the frequently stuttered lyrics and the prominent use of handclaps are enjoyable enough the first few times around. But after a while only the baby isn't annoyed. Track titles should clue you in to what I mean: "We R the Handclaps," "Can I Get Get Get," "Dance, Chance, Romance," and so on.
The boys know how to write a good song with enduring appeal. On the album's best track, "I Like Music (W.O.S.B.)," the boys sing that "music's not just sounds." And then they sing their M.O. in a sunny, passionate chorus: "Keep on working on something better."
But this album isn't better than D-D-D-Don't Stop the Beat. "We're going one step forward, two steps back," Senior leads the chorus on rousing album closer "Happy Rap." That's not quite the case — Junior Senior haven't ended up one full step behind where they were four years ago. In fact, when you consider the seven-song EP included with the album, the boys actually do come out at about the same appealing spot as the first time around.
That EP, Say Hello, Wave Goodbye (




), which was produced just this year, even suggests the boys may actually be getting better as the years go by. It's a stronger, more sophisticated set, one definitely more adventurous and experimental and, dare I say it, more adult. It draws mostly from late '70s rock and '80s New Wave, including the fascinatingly distorted, moody but still upbeat sonics of "Together for One Last Dance" and the "Headphone Song," as well as the Men Without Hats-esque sweet and hyper "U and Me." The EP makes the case: Junior Senior should channel more New Wave vibes next time around.
From YouTube

Can I Get Get Get