Prominent gay attorney Joseph R. Price, his partner Victor Zaborsky and their former roommate Dylan Ward were noticeably missing on Monday, Aug. 6, at the Covington & Burling offices in Northwest, during a press conference about the unsolved murder of Robert Wone. Wone was the 32-year-old lawyer who died from multiple stab wounds inside their Swann Street townhouse last year.
Despite their absence, Eric H. Holder Jr., a former U.S. deputy attorney general representing Wone's widow, Kathy, had a message for the three men, who have yet to talk publicly about the night in which Wone was killed.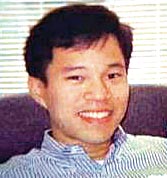 Robert Wone
"You need to truly ask yourselves, 'Have I provided the police with all of the information that might be relevant to the investigation of this crime?"' Holder said to a full room of about 150 people.
"Only you, your conscience and your God will know the answer to that question," he added. "If you truly care about Robert…[and] his family…you will come forward and share all of the information that you have."
Over the past year, representatives from the Metropolitan Police Department (MPD) have reported that the Price, Zaborsky and Ward — who voluntarily took DNA tests in addition to participating in extensive interviews shortly after the murder, before each hired defense attorneys — claim an intruder murdered Wone while they were asleep.
Holder addressed the frustration he feels from the lack of answers surrounding the case over the past 12 months.
"This is despite the fact that Robert was in a house occupied by friends at the time that he was stabbed," he said. "It was despite the fact that the knife used to stab him was taken from the kitchen of the house where he was spending the night.
"These are people who have gone out of their way to claim that they are friends of Robert's…. I have to think that among the three, if not all three, have information that would be relevant to the solving of this crime."
Holder added "It's inconsistent to claim to care about Robert and his family and then not to share any information…. Somebody in that house has to come forward with even a small bit of information that might be inconsequential to them, but could be key in solving this case."
Holder said the MPD's Homicide Unit has indicated that the U.S. Attorney's Office still considers the Wone case a priority.
Wone's wife, Kathy, has relied on colleagues, family and her church to get through, what she describes as the "darkest year" of her life.
"Slowly but surely life has been coming back," Kathy Wone said, speaking publicly for the first time since her husband's death.
In addition to laughing, spending time with friends and listening to music again, Wone said she is "starting to hope again." She concluded with a message to the person or persons responsible for her loss.
"Having a murder on your conscience is no small load to carry as you try to live, I imagine, as normal a life as possible. Confessing will be the hardest thing that you do in your life, our laws will impose severe consequences, but it will also be the most freeing thing that you can do for yourself. A secret like the one you are hiding from the world will only grow heavier with time."