THERE WEREN'T TOO many people to look up to in mainstream media while growing up as female-to-male transgender, recalls Katastrophe.
The 27-year-old native of the San Francisco Bay Area says that even today media images are dominated by "Jerry Springer" stereotypes and reports of the murders of transgender women.
"I think that it really sends a message to somebody who's coming out," he says. "It's hard to imagine what your adult life will look like."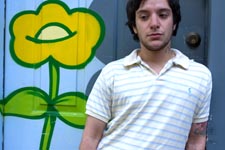 Katastrophe
To deal with that struggle, Katastrophe turned to music and poetry at 17, and quickly found himself involved with San Francisco's youth-poetry scene.
Today, Katastrophe is working on his third album, which will continue to blend "emo," pop and hip hop with lyrics that send a message of "positivity and hope." With previous albums, that message has garnered the attention of transgender fans around the country, he says, who e-mail him regularly from places he would have never expected, such as Nebraska.
"I've gotten to see how much the world has changed in the past 10 years."
But there is still work to be done, he adds, even within the GLBT community. Take the title of Katastrophe's current album, Fault, Lies, and Faultlines. It stems from the confusion he felt about his place in the community, earlier in his career.
"If you're gay, your place is never questioned," he says, "but as a trans person — especially being a man that dates women — for all intents and purposes, I'm a straight man in a queer community."
It's a topic that came up when Katastrophe was about to perform at a previous Homo-A-Go-Go, an annual four-day music and film festival in Olympia, Wash. It was there that he says a few people questioned whether he should "be able to play during the event at all."
"It really influenced the content of my second CD, so that's why I called it Fault, Lies, and Faultlines," he says. "It's about where we draw lines, who's to blame, and what is just bullshit."
Another outlet of self-expression is his skin.
The artist currently has 11 tattoos, mostly words, including "Hope" on his neck, "Tender-hearted" across his chest and "Heavy-Handed" on his arm. Of Greek and Italian descent, Katastrophe was 18 when he got his first tattoo, the word "Voice" in Greek on his right shoulder.
"I'm a performer and I use lyrics and text as my way of communicating everything…to the world," he says. "Everyone has a voice and voicing your life to others is the most important part of being alive."
Katastrophe performs on Thursday, Aug. 16, at 8:30 p.m.
Advertisement

| | |
| --- | --- |
| Katastrophe: Fault, Lies and Faultlines | Katastrophe: Let's Fuck, Then Talk About My Problems |