At the most recent meeting of the Mayor's LGBT Advisory Committee on Tuesday, July 24 — the committee meets every other month — committee members were offered a chance to dialogue with the relatively new Mayor Adrian Fenty (D) face to face.
"He was no-nonsense," says Billy Jones, appointed to the committee by former Mayor Anthony Williams (D), and acting committee chair. Though his chairmanship technically expired June 30, a contingency allows him to serve for an extended period in the absence of a newly named chair. "Our format was probably not the right one for this mayor. We had the idea of asking him questions. He said, 'Look, just tell me what you want from me."'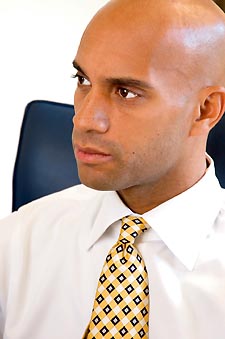 Mayor Adrian Fenty
Todd Franson/file photo
And that's what they did, says Jones.
"We turned our questions around to say, 'These are some things we would like to have from the various departments that fall under your jurisdiction."'
That evening, the committee submitted a number of requests to Fenty.
"The primary thing we want is for various departments to be collecting data as it relates to the LGBT community," says Jones. "That's because a response we often get when our issues are put on the table is, 'There's no data to support that.' If there's no data, it's easy to pooh-pooh."
Specifically, that request entails District departments of all stripes adding GLBT identifiers on intake forms and the like, helping the city to glean data regarding the number of unemployed District residents who identify as GLBT, for example.
Though there are minor discrepancies among various attendees of the July 24 meeting regarding the other items the committee would like the mayor to address, the primary concerns seem to be: conducting a "CapStat Session" (a performance-based accountability program) on the Office of LGBT Affairs; investigating the feasibility of District-wide cultural-competency training for health providers; appointing a GLBT liaison to D.C. Public Schools and at the Department of Health; creating GLBT and HIV/AIDS specific programs at the Department of Mental Health; reporting on what the District is doing to address the issue of GLBT homeless youth; investigating the feasibility of creating an HIV/AIDS memorial in the city; and naming directors to the city's HIV/AIDS Administration and the Office of LGBT Affairs, and chair and vice-chair of the LGBT Advisory Committee.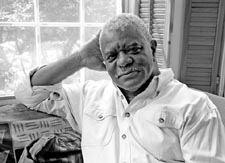 Billy Jones
Fenty committed to report back to the committee in six months on all fronts, save for the four appointments. Fenty is due to move on the appointments by mid August.
Christopher Dyer currently serves as interim director of the Office of LGBT Affairs, appointed by Fenty in February as Williams' appointee, Darlene Nipper, stepped down. Other names have been suggested to lead that office, such as Jeff Marootian and Khadijah Tribble. Jones says, however, that he'd be pleased to see Dyer remain as permanent director.
"I'm a strong supporter of Chris Dyer," says Jones. "I was a little reserved at first because I didn't know him, but I'll say he's one of the hardest working people that I know. His commitment, his willingness to roll up his sleeves and do the work is commendable. He's held the office together — and he has no staff currently."
Pointing to what he sees as Dyer's knowledge of how the District government works and skill working with constituents, Jones says he's "a strong supporter of Chris Dyer being named being named director."
As for working with the mayor, Jones says that following this first meeting between Mayor Fenty and the committee, the relationship ahead should be productive.
"When you pull together a group who have been activists, we just want to move forward and get it done," Jones says. "We always have to remind ourselves that we're an advisory committee. We've learned to be patient.
"The commitment of both [Williams and Fenty] is commendable. I would rate them as being equal. Their management styles are different. Williams' style is more conversational, more probing. Fenty is, 'Tell me what you want and I'll get it done.' It's just a different approach."
Toni Collins, vice chair of the committee and board chair of the D.C.-based Transgender Health Empowerment, agrees that the meeting went well, and the mayor's commitment looks "very promising."
"With the Mayor Fenty administration, I feel confident he'll pursue our concerns," she says. "Even though this is new to him as mayor, he has a very good take on the city."