DESPITE THE FACT that she's the drummer, Bethany Petr from Odd Girl Out wrote all of the songs on the band's debut album, Hurry Up and Wait.
"When we first started the band, we didn't know what we were doing, we didn't have a direction, and we we're playing mostly covers," she recalls. "I got a guitar and started playing it, [and] actually wrote all the songs [on the debut]."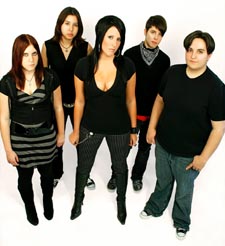 Odd Girl Out
Think of Odd Girl Out as "power pop."
"We originally started out wanting to be a punk band but were too melodic," she says, noting that the band is often compared to The Madonnas.
Petr, who also works as computer engineering teacher at Paint Branch High School in Montgomery County, says the band first got together in 2004.
In addition to Petr, the current lineup of the five-member, all-lesbian band includes Tawni on lead vocals, Eva Blackmer on bass guitar, Kristen Brzowsky on lead guitar and Selena Benally on guitar.
Over the past three years Odd Girl Out has cultivated a strong lesbian following.
"Everybody in the band is gay," says Petr. "It's definitely influenced our audience base, because our core set of fans is mostly other lesbians."
Petr says every so often they attract fans outside of the gay community, particularly when they play shows with other bands.
"We always steal fans here and there," she laughs.
Odd Girl Out performs Saturday, Aug. 18, at 7:50 p.m.