Some shows are almost impossible to review. This isn't because they are bad plays. In fact, those are actually the easiest to work with. There are far more ways to say that something is horrid than to convincingly praise something. At a certain point, all praise begins to sound slightly hollow if not outright false. The devil is not in the details, he's in the hyperbole.
But other shows, like Theater Alliance's world premiere of Lazarus Syndrome at the H Street Playhouse, resist criticism for another reason altogether. It is because they are so quiet in their approach, so seemingly familiar in their story and construction, that straightforward discussion renders them sounding anemic and dryly familiar.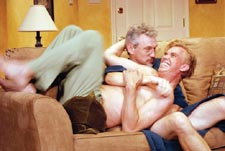 Couched in love: Kramer and Boggs
And why is this? In the case of Lazarus Syndrome it is because the beauty of the show rests on a single lovely turn that cannot, or rather should not, be revealed. With a single deft movement playwright Bruce Ward transforms the familiar into the fantastic. More wonderful is the fact that Ward commits his sleight-of-hand without relying on effects or false fronts. Lazarus Syndrome is a one-act play that reminds us how powerful the written word can truly be. With the strong architecture of his language to support it, Ward seeks to do more than convince his audience to suspend their disbelief — he instead encourages them to simply believe.
At its most surface level, Lazarus Syndrome is a story of family and the struggles that emerge when discussions that have been put off too long are finally had, the discussions that are conducted over and over again resurface and the silence that often maintains the peace is broken. It is probably unsurprising, particularly to anyone who grew up in even the most barely ethnic of households, that most of this unfolds over the course of a single family dinner.
Elliott (Michael Kramer) has spent most of his adult life as a person living with AIDS. A former concert pianist who now teaches lessons at the local YMCA, he struggles with the emotional toll of Lazarus Syndrome, a medical diagnosis for the survivor's guilt for continuing to live while so many of his friends have passed.
With his partner Stephen (Kevin Boggs) ostensibly absent from the apartment while performing in a tour of Fiddler on the Roof, Elliott's self-imposed hermitage is interrupted by the arrival of his brother Neil (Jim Jorgensen) and, later, his father (Bill Hamlin). Both tell Elliott they have come to spend the Friday Sabbath with him and arrive carrying Manischewitz, homemade matzo ball soup and family baggage.
In Ward's hands, the gathering is a masterful rendering of conversations we have all had in some fashion or another. There is comfort in their family debates, even when they become brittle and tense, because there is something recognizable about them, something so very true.
Ward has also been blessed with a marvelous cast able to embrace the quiet nature of the work and coax it carefully to life on stage. Kramer and Boggs touch and embrace and tease like a couple who know one another's every move.
Kramer and Jorgensen bicker and fight like real brothers, with Jorgensen's broad movements and mugging a perfect foil to Kramer's exasperation. Each member of the cast brings the same truth to their performances that Ward gave to the page.
That authenticity threads through every element of Lazarus Syndrome — from Dan Conway's set to the gorgeously rendered sound design crafted by Mark K. Anduss. Both designers pay close attention to the tiniest of details, recognizing the significant impact they can have. For Conway, it's in the microwave whose clock has not been sent and the well-worn leather chair that slouches comfortably in the corner. For Anduss, it's the clean layering of thin, reedy piano music with the sounds of traffic from the street below Elliott's apartment window.
So why is Lazarus Syndrome such a difficult play to review? Certainly not because it is not a marvelous play. In fact, it is that rare beauty that manages to be moving without melodrama, heartbreaking without hysteria. But it is quiet. And it is comfortable. And it is exquisitely real, succeeding not with flourishes, but with the strength of its language and the confidence of its cast.