A local soldier fighting gay-related sexual assault charges was handed three federal-level convictions on Friday, Aug. 17, for charges filed against him by three fellow soldiers several months ago.
The convicted, Christopher Mastromarino, 25, of the military's prestigious Old Guard, was demoted by court martial from a specialist to a private first class. The Old Guard of the U.S. Army's 3rd U.S. Infantry Regiment is charged with ceremonial duties at Arlington Cemetery, among other national capital duties.
Mastromarino has continually denied all charges.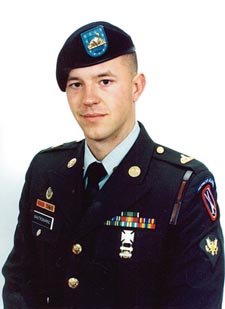 Christopher Mastromarino
"He now has three federal level convictions on his record, which means several things depending on what happens next," says Emily Hecht, an attorney representing Mastromarino on behalf of Servicemembers Legal Defense Network (SLDN).
"When he's discharged from the military they will remain federal convictions because they were found in a military court," she says, adding that it will also prohibit his chosen career path as a police officer.
Mastromarino, who had served in Korea prior to being selected to serve in the prestigious Old Guard, says he was targeted by fellow soldiers who perceived him as gay due to his political beliefs, among other reasons.
Steve Ralls, SLDN director of communications, agrees with that assessment and says the individuals did not present even a "shred of legitimate evidence" during their testimony.
The alleged incidents against Mastromarino included a fellow service member alleging that Mastromarino touched his knee during the course of a conversation. According to Ralls, the service member took issue with that because he perceives Mastromarino to be gay. Another service member alleged that Mastromarino "improperly" touched him during a frisking incident, and a final service member claims he was assaulted during a game of "punch bug," often played by children, in which the first person who spots a Volkswagen Beetle, while in a car, punches others present.
"This was nothing more than an anti-gay witch hunt," says Ralls. "It's disappointing and infuriating that a service member with a stellar record like Chris's can have their career ended…through the acts of a few homophobic soldiers."
Hecht echoed Ralls' sentiments.
"From what we've seen and from what we've heard from other soldiers in the unit, and from Chris himself…it's just a pattern of harassment and homophobia. He's being targeted because people think he's gay," she says, adding that his commanders dislike him because of that perception by some fellow soldiers. "This is a guy who didn't have any problems until he got to Old Guard. His record is stellar."
Hecht also points out that during the investigation into the allegations, statements were often fraught with hearsay, speculation and innuendo. The investigating officers also limited their interviews to male soldiers, according to Hecht, excluding the women in Mastromarino's unit.
Several calls to the Old Guard Public Affairs Office were not returned before Metro Weekly's deadline.
While Mastromarino is currently still considered a part of the Old Guard, Ralls says the demotion is an initial punishment and that the command at the unit is simultaneously moving forward with its plan to "chapter out Chris from the Old Guard."
"Our expectation is that he will be out of the Army sooner rather than later."
While Mastromarino has never confirmed whether he is gay or not, he says his troubles at the unit developed when he asked other soldiers to help him move into his gay cousin's apartment in Arlington.
"I didn't have any hesitations," he says. "I didn't even think of him as my gay cousin. I just thought of him as my cousin. Apparently it wasn't the smartest idea."
Before the decision was announced, Mastromarino was going through the application process to become a police officer with the Metropolitan Police Department.
It's questionable whether that is now possible.
Hecht says her client does have some options however, which she cannot discuss at this time. She did note that options for appealing the convictions are at this time "limited."
"His only option for appeal is to request clemency and request that the convictions be set aside," she says. "But at this point, since the general did sign off on the convictions, he doesn't have any formal appellate process left, so we're not really sure what the next steps are going to be."
Adds Ralls: "This conviction…will influence his future civilian employment, and it will be an experience that he will carry with him forever."
It's an experience that has left Mastromarino at a loss for words.
"I'm just very disappointed," he says.
"The military has its issues. People need to watch out for themselves. And if anybody else is in the military, they need to watch their backs and have no trust in [anyone]."